West Palm Beach Crime Victim Lawyer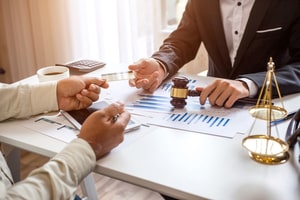 If you were an unfortunate victim of a crime, could result in minor to severe injuries, as well as loss of valuable property. Another person's choice to attack and harm you in any way could leave you physically and emotional scarred. You may feel devastated or helpless after such a malicious act, but there is still hope in recovering some or all of what you may have lost.
Being injured due to a criminal act in West Palm Beach means that you could be entitled to damages recovery from liable persons. You would likely want to speak with the best West Palm Beach crime victim compensation lawyer that you can identify. At Wolfson & Leon our West Palm Beach crime victim lawyers can help. Call us at (855) 982-2067 for your free consultation today.
City of West Palm Beach
The city of West Palm Beach is the county seat of the Palm Beach County, Florida. It is the oldest incorporated city in the Miami metropolitan area. 108,000 inhabitants live in the city. Even though it is located 68 miles north of Miami, due to the excellent infrastructure and urbanization between the two cities, it is considered a principal city within the Miami metropolitan area.
West Palm Beach Crime Victims
Considering the most common crimes in West Palm Beach and the whole South Florida are, our West Palm Beach crime victim lawyers can serve you as:
Battery victim compensation lawyer in West Palm Beach
Crime victim lawyer for aggravated assault in West Palm Beach caused by inadequate security measures
West Palm Beach crime victim lawyer for murder victim survivors
DUI crimes victim compensation attorney in West Palm Beach
West Palm Beach crime victim compensation attorney for robbery victims injured due to negligent security
West Palm Beach crime victim lawyer for violent crime injuries and deaths at apartments, affordable housing, hotels, motels and other commercial premises
Rape and other sexual assault victim rights lawyer in West Palm Beach
Child molestation victim compensation lawyer in West Palm Beach
Of course, these are just the most common crimes that our West Palm injury lawyers have encountered. However, if you or your loved one have gotten injured in another type of criminal attack, chances are that you may be eligible to recover for damages, so don't hesitate to seek legal advice.
Compensation Options Available to West Palm Beach Crime Victim
Florida laws provide three recovery options to murder survivors and those injured due to criminal attacks in West Palm Beach. The first one lets you claim damages from the offender. If the law enforcement authorities could reach him, prove his guilt and convict him, you can recover from him easily. However, most criminals cannot or will not pay for the damages they cause. In many cases will likely turn to the other two options.
One of them is recovering from the person or company controlling the premises where the crime happened. If they failed to prevent the crime due to negligent security, they may be liable to pay for your harms and losses. These parties could be convenience stores, banks, bars, shopping malls, and other commercial entities. They owe a duty of reasonable care to invitees, which means taking all the necessary steps for preventing foreseeable crimes. When they breach the duty due to negligence, they may be responsible for damages.
Finally, the Florida Bureau of Victim Compensation offers a straightforward, but limited, procedure for recovering some of your economic damages. If you meet the requirements set by the law, your case can qualify for compensation from them. They just ask for documentation to prove that you meet all the requirements.
The West Palm Beach crime victim lawyers at Wolfson & Leon have been helping injury victims from South Florida get just compensation since 1963. We are standing by to help you too. Just call us at (305) 285-1115 for your free consultation and remember that you'll pay no fees unless we recover for you.