West Melbourne Walmart Accident Attorney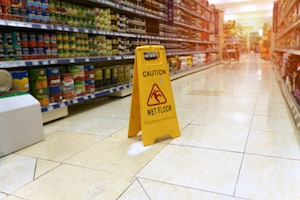 A Walmart accident can be debilitating, especially if you were not expecting it. You've taken the time out of your day to shop, find things you need, and be on your way home. It was supposed to be a simple outing, but suddenly it's turned into a life changing ordeal that has left you with pain that will likely haunt you for the rest of your life. Suffering from this ordeal should not be something you do alone. Especially not when there are people out there with the qualifications to help you and your loved ones see you through this situation.
Wolfson & Leon has been tough at work helping the people of Florida for decades, with offices starting in 1963, and the 55 years hence working with all manner of accident clients. They've been more than happy to provide their service, and they're ready to extend that help to you. Whether you've suffered because of the negligence of another, or because of unreasonably slippery floors, or even because you've been hit over the head with falling merchandise that was stacked incorrectly. All of this and more makes you liable for compensation, and you should take the time to speak to those who can walk you through the process of litigation.
Wolfson & Leon has dealt with this type of law for decades, premises liability is nothing new, and you should not try to learn it all by yourself. Taking on the unenviable task of working through information you're now just learning will leave you in a bad spot. Take the time to call those who've been at this long enough that the wording used in all the documents is like second nature to them. You're not a lawyer, you've not taken the rigorous years needed to be in law school and worked towards getting a degree in law. You shouldn't act like one, call those that can help you in getting your life back on track. Call (855) 982-2067 and speak to an Walmart injury attorney right away. The consultation is free, and they'll be more than willing to speak to you if needed so that you understand what's at stake, and what the next move is likely to be.
West Melbourne Florida
Defiance is the name of this city, at least in spirit. It was created in 1959 in a vote to keep it from being annexed into the larger city of Melbourne, likely wanting to keep its own identity. It only recently began to charge for property tax, as from its inception survived on fees only for its 17-million-dollar budget. The city itself has seen the highest expansion in population in Brevard County, with over 9 thousand people now calling it home, with over 4 thousand households and two thousand families living within the municipality. Made up of ninety three percent Caucasian Americans, with only one-point four percent African American, Latino, and other races. The city may not be very diverse, but it certainly has a unique impression to its area.
The Walmart in West Melbourne can be found at this address
845 Palm Bay Rd NE, West Melbourne, FL 32904
Placed rather close to Executive Park, this supercenter is likely positioned strategically to get as many people in its doors as possible through the day. According to business insider, over ninety percent of Americans live within fifteen minutes of a Walmart, and that's very likely on purpose. With an average of 140 thousand items at its supercenters, you're likely to find all you need and more in these places. Still it is important to account the fact that these supercenters are manned by humans, and where humans exist, so do accidents. You could find yourself in many, including:
West Melbourne Walmart trip and fall accident
West Melbourne Walmart accident due to a pedestrian at a Walmart parking lot
West Melbourne Walmart accident due to a motorized vehicle at a Walmart parking lot
West Melbourne Walmart accident due to a delivery truck at a Walmart parking lot
West Melbourne Personal Injury and Wrongful Death Attorney
Wolfson & Leon is more than willing to help you. Calling them right away after your accident is not what you should do however, first you should see that you're well taken care of, a trip to the doctor to see just how serious you're hurt, and a moment to collect yourself and remember the details of your accident. Then giving them a call to get in contact with the managing attorney, Jonah Wolfson, and his legal team of West Melbourne Walmart accident attorneys can get you on track for compensation. He and his team are bilingual and can speak right away over the phone. Call them right away at (855) 982-2067 for your free consultation today.