Wellington Motorcycle Accident Lawyer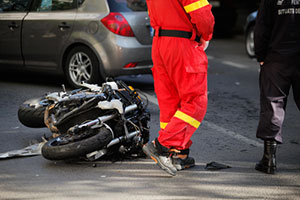 Wellington may be farther from highways and the business of coastal South Florida, but it is still a decently populated area with plenty of residents and local traffic. Its proximity to farmlands and long-winded two-lane roads can be quite advantageous for motorcycle enthusiasts. Although these areas can have less commuters, there are still plenty of cars on the roads and continued risk of negligent drivers with less stimulus during their drive on these roads. This could be a recipe for disaster for motorcycle riders.
Have you been injured in a motorcycle accident in Wellington, Florida, or have lost a loved one due to a wrongful death? If so, you will need the advice of the best good Palm Beach injury attorney you can call to advise you on your options.
Our Wellington motorcycle accident lawyers at Wolfson & Leon have been helping injured victims get compensated for personal injuries in South Florida since 1963 and we are ready to help you as well. Call us now for your free consultation at (855) 982-2067. We will help you determine if you are entitled to claim damages and the best legal options to pursue that compensation. Our consultations are free.
Wellington
Wellington is a village with the size of a city located in the middle of Palm Beach County, Florida. Even though it is not a village by any standard for village in the United States, it is referred as the Village of Wellington. It lays on the western edge of the inhabited area west of West Palm Beach, Boynton Beach, and Lake Worth.
Wellington is the most populous village in Florida. According to estimations, nowadays, around 70,000 people live there. Over 80% of them have English as first language. Unlike other parts of Palm Beach County and Florida, just a small part of the population belongs to minority ethnicities.
The median household income is at $77,000 and the per capita income for the village is at $40,000. That, together with the abundance of cultural and recreational venues, made the Money Magazine list Wellington as one of the Top 100 places to live in the United States.
Wellington Motorcycle Accidents
The most common motorcycle accidents in Wellington are:
Wellington Wrongful Death Claims Due to Motorcycle Accidents
Rear-end Collisions with Motorcyclists in Wellington
Wellington Left Turn Motorcycle Accidents
Wellington Left Turn Motorcycle Accidents
Drunk Driving Motorcycle Accidents in Wellington
Head-on Collisions in Wellington with Motorcycles
Motorcycle Accidents in Wellington Involving Uber or Lyft Drivers
Wellington Sideswipe and Merging Motorcycle Accidents
Wellington Motorcycle Accidents with Uber Drivers
Wellington Motorcycle Pedestrian Injury Accidents
Road Rage Motorcycle Accidents in Wellington
Motorcycle Accidents in Wellington with Lyft Drivers
Wellington T-bone Motorcycle Accidents
Wellington Rollover Motorcycle Accidents
Wellington Motorcycle Accident Lawyers
When you call our Wellington motorcycle accident lawyers at Wolfson & Leon, we will start by examining the circumstances of your case. We will determine whether you have a compelling case or not. We will let you know our opinion on this matter. For a client, it is important to know if the case is not strong, so that he won't lose money, time, and energy on unnecessary litigation.
However, we will work with you, your doctors, witnesses, experts and anyone else who can provide valuable information about the accident and try to build a solid case. Then, we will request compensation from the insurance company of the reckless person who is liable for your injuries. If they don't agree to compensate you as you deserve, we will file a lawsuit and, if necessary, go to trial on your behalf. Whatever happens, we will stand by your side until the end.
We have been in the business since 1963 and we know how to guide you. Injured victims are in difficult life situation and they shouldn't be outplayed by insurance companies. Call us now at (855) 982-2067 and let us help you. Our consultations are free. We handle cases on a contingency basis, which means that you won't pay fees unless we recover for you.