Unreasonably Slippery Surfaces
Miami Personal Injury Lawyer Discusses Slippery Surfaces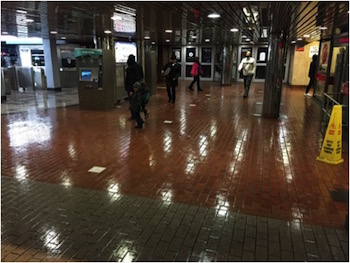 Sometimes folks don't just slip on a slippery substance like water, grease, or oil. Some Miami Slip and Fall Accidents are because of the surface itself underneath the substance. A liquid on a flat surface generally will make it more slippery, especially depending on the type of liquid substance that is on the surface. However, floors and surfaces that meet forms of liquid on a regular basis, should be made of a material that is more slip resistant even when in contact with the such liquids. The Miami Slip and Fall Lawyers at Wolfson Law Firm handle slip and fall accident injury cases that happen as a result of unreasonably slippery surfaces. You can call them right now at (305) 285-1115 for a free consultation.
In these cases, it is often not enough to just say that the walking surface was unreasonably slippery. Rather, an expert is needed. The expert is needed to testify that the surface does not meet the slip resistance levels called for by local, state, or national building codes.
If this is the basis of your Miami Slip and Fall case and the case is going to trial, your Miami Personal Injury Lawyer will need an expert. The defense will almost always get an expert to say that the area is grandfathered and does not need to meet the code. And, at Wolfson Law Firm, we have a series of experts that we work with who can examine the walking surface and offer an opinion.
Slip and Fall Experts Retained by Miami Personal Injury Attorneys
Experts can do various things to check to see if the surface meets the slip resistance standard that applies. Experts can use a device called a walkway tribometer. The tribometer is an instrument that measures friction. There are several types of tribometers:
Four ball
Pin on disc
Block on ring
Bouncing ball
Fretting test machine
Twin disc
There are several other ways to test the walking surface. And, an expert can offer an opinion even without testing. The opinion could be based on the American Society for Testing Materials which sets forth other ways to test a surface. However, in a Miami Slip and Fall Injury case based on an unreasonably slippery surface, your Miami Personal Injury Lawyer should usually hire a slip resistance expert if your case is going to trial. Using lay witness testimony alone to establish that the floor was "really slippery" at trial could result in losing the case or even a directed finding against you. An expert can be vital.
Also, in any slip and fall case, you must show that the defendant knew or should have known of the condition, had actual notice, or had constructive notice of the unreasonably slippery floor. And, in a Miami Slip and Fall case based on the walking surface being unreasonably slippery, prior instances of slip and falls are important for your Miami Personal Injury Lawyer to be able to show that the Defendant knew or should have known about the surface being unsafe.
In our years of practice as Miami Personal Injury Lawyers, we have experienced several types of surfaces that are unreasonably slippery and cause folks to slip and fall. Our Miami Slip and Fall Lawyers have seen some of the following slippery surfaces:
Shiny tile, whether marble, ceramic, porcelain, or quartz; and
Painted slick surfaces that did not utilize non-skid pain or grip; and
Stairs that do not have sandpaper on the risers; and
Polished concrete surfaces.
Polished travertine; and
Shiny linoleum.
Synthetic flooring including laminate flooring of all kinds; and
Boat surfaces like gelcoat; and
Wood deck that is porous and has mold buildup like at a marina or backyard decking an
Our Miami Personal Injury Lawyers can help you. We will fight for you against the folks that caused your Miami Slip and Fall. If you fell because of an unreasonably slippery surface, call (305) 285-1115 and we can help you enforce the safety rules against whoever caused your accident.