Toy Related Injury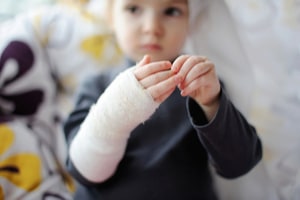 Ever see a child's eyes light up when they receive a new toy? Bright colors and amusing sounds easily catch the attention of younger children. Some toys require physical activity, such as pounding, hitting, or throwing. Others are more intricate, with tiny parts that are pieced together to build something new.
Toys are meant to be fun, exciting, and engaging for children. Design flaws, small parts, and other hazards, however, can cause result in serious injury, even death, to children. In 2017, there were over 250,000 emergency room visits that resulted from injuries from toys. 73% of the visits involved children under the age of 15. In 2017, there were 13 deaths that resulted from toy-related injuries, all involving children under the age of 12.
Injuries from toys can occur due to lack of supervision, failure to follow directions, or accidents involving moving vehicles. In other cases, defects in the design or dangerous components were used to manufacture the toy, which can contribute to injury or worse.
Common Accidents Involving Toys
Toys can become dangerous in many ways. Toys that move, such as rocking horses or cycles, can result in children falling off, if they don't have secure straps or safe ways to climb up. Toys that are made cheaply, use poor quality materials, or several small parts can break apart, causing choking hazards for smaller children. Children may become entangled in cords, ropes, or strings that are attached to the toys, resulting in strangulation. Plastic bags that are used in packaging can result in suffocation if a child puts this over their head. Toys that have electrical cords or are battery operated can cause burns if they are not designed or assembled properly.
Common Injuries Involving Toys
Defective toys can result in injury. Some of the most common injuries include lacerations, burns, and cuts. When children fall off of toys, they can break bones or suffer from a head injury if they hit a hard surface. Suffocation injuries can result from plastic bags that are often used in packaging if a child puts them over their head. Toys that have sharp edges can cause puncture wounds and scraps. Choking hazards in younger children can occur if parts of a toy are very small, such as puzzle pieces, or the toy breaks apart. Burns from electrical cords or malfunctioning batteries or other components can occur.
Toys that children can ride in or on, such as bicycles, tricycles, or battery-powered cars, can expose them to accidents if they are hit by a moving vehicle.
Legal Recourse If Your Child Has Been Injured in a Toy-related Accident
There are many facets involved with injuries that may have resulted from a defective toy. Flaws in the design and manufacture of a toy fall under product liability claims. A victim would need to prove that they would not have been injured using the toy if there was no negligence in the design or manufacture of the toy. Under product liability laws, the designer and manufacturer of a toy must exercise reasonable, not absolute, care in its design and production.
Absolute care would cover every incident, even those that were beyond the control of the designer and manufacturer. As an example, a toy that breaks apart into small when falling off of a kitchen table may be a design defect as it may be a foreseeable choking hazard. However, a toy that breaks apart into little pieces when thrown out of a two-story window may not be.
The Four Elements of Product Liability in a Florida Toy-related Injury Case
If your child has been injured in a toy-related accident and you believe that it is the result of a product defect, there are four elements that you will need to prove. These include;
The toy had a defect, whether in the design or the manufacture
Either the designer or manufacturer, or both, was negligent,
You or your child was injured as a result of the designer or manufacturer's negligence
Injuries were sustained that required medical care.
However, in a case that involves a dangerous or hazardous product, the burden of proof is significantly less. Under the legal term known as strict liability, only one of the four elements above may need to be proven. This often occurs when the defect is obvious, making it unnecessary for the family to prove that they toy was unsafe. Common examples include using banned or materials that are known to be unsafe, such as chemicals or elements that can cause poisoning, or if numerous other claims exist that have already proven the danger of the toy.
In addition to designers and manufacturers, a retailer may also have responsibility if they sell a toy that is considered dangerous. Whether they knowingly sold the toy or failed to adequately research the product for any defects, complaints, or material concerns prior to selling this on their shelves, a retailer may have some liability in a toy-related injury case.
Toy-injury Personal Injury Attorney in South Florida
If your child or a member of your family has been injured as the result of a defective toy, you may be able to recover compensation for damages. You may have incurred costs associated with medical treatment or may require future care for a member of your family as a result of the injury. Parents often need to take time off from work to care for their children, resulting in lost wages during that time. Other costs, such as transportation or medical supplies may be necessary to care for your injured child or family member.
The personal injury attorneys at Wolfson & Leon have defended the rights of victims who have been injured in defective toy-related accidents. Since multiple parties can be involved in a defective toy claim, such as companies that design and manufacture the toys, as well as the stores that sell them, it is critical that you obtain legal representation to ensure that you receive the compensation you deserve. Lawyers and insurance companies may pressure you to settle early, which helps them to minimize their cost. However, you may have damages beyond the initial medical bills that need to be considered. Our personal injury attorneys work directly with their insurance companies, and legal teams to defend our client's interests. We can help you recover the compensation you need to pay for medical bills, lost wages, and continuing care. If you, your child, or another family members has been injured from a defective toy, or a guest contact Wolfson & Leon for a free consultation at (855) 982-2067. With offices located in Fort Lauderdale, Miami, Fort Myers, and West Palm Beach, we proudly serve the residents of South Florida. If you need help, contact the Florida personal injury attorneys at Wolfson & Leon today at (305) 285-1115.