South Miami Motorcycle Accident Lawyer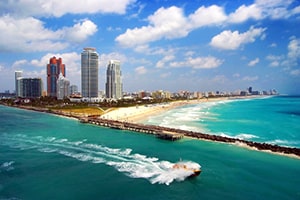 The decision to purchase or ride a motorcycle comes with plenty of risk. Regardless of the proper precautions you take such as wearing a helmet, a protective suit or being a cautious rider, an injury can be easily sustained should an accident occur. In most cases of motorcycle accidents, it is generally not the rider's fault. With the inherent risk that comes with riding a motorcycle, that risk becomes even greater when riding in South Florida. Miami Dade county is home to nearly 3 million people with an estimated 64,000 automobile accidents per year. In the event that you were seriously injured in a motorcycle accident in South Miami, contact a Miami personal injury lawyer as soon as possible. It is essential to start the damages recovery procedure right way because a mistake at this stage can make things very complicated at a later stage.
South Miami is a wonderful place to spend time at, and it's a pity when someone else's mistake causes a motorcycle accident and injuries on your side. That's a tricky situation since motorcycle drivers do not enjoy the protection of a chassis as with the car drivers. Automobile drivers are protected by the frames of their cars which prevent them from being ejected as even in the event they were not wearing a seatbelt. Motorcycle riders are not confined within a car frame and when an accident occurs, regardless of the speed of the collision, they will be ejected or fall from their vehicle. The danger is not only from the initial impact, but also any impact that comes after the collision. This is why generally motorcycle riders suffer more severe injuries.
Our Miami injury attorneys understand how devastating an accident can be for you and your close ones. And in such situations, those who caused the accidents try to avoid paying for the damages. Insurance companies are not better either, as they try to make a settlement for less than you should be compensated. Don't accept it before consulting a lawyer. For help with that, call our South Miami motorcycle accident lawyers at Wolfson & Leon. Our consultations are free. You can reach us out at (305) 285-1115.
South Miami
South Miami is part of the Miami metropolitan area and Miami-Dade County. It has an area of only 2.3 square miles. It borders with Glenvar Heights, Coral Gables, Coral Terrace, Pinecrest, and some unincorporated areas. Around 12,000 people live in South Miami and enjoy the idyllic neighborhoods, recreational parks and historic buildings. Even though 55% of the city is residential, South Miami hosts many business entities, especially around Dixie Highway and Sunset Drive.
South Miami Motorcycle Accidents
Having in mind the most common motorcycle accidents occurring in South Miami, you can be injured in:
Rear-end Collisions with Motorcyclists in South Miami
South Miami T-Bone Motorcycle Accidents
Wrongful Death Claims Due to Motorcycle Accidents in South Miami
Motorcycle Accidents with Uber Drivers in South Miami
Sideswipe and Merging Motorcycle Accidents in South Miami
Drunk Driving Motorcycle Accidents in South Miami
South Miami Left Turn Motorcycle Accidents
South Miami Rollover Motorcycle Accidents
Motorcycle Pedestrian Injury Accidents in South Miami
Road Rage Motorcycle Accidents in South Miami
South Miami Head-on Collisions with Motorcycles
Motorcycle Accidents Involving Lyft Drivers in South Miami
South Miami Motorcycle Accidents with Lyft Drivers
South Miami Motorcycle Accident Injury Lawyers
If you have been unfortunate to be horribly injured in a motorcycle accident in South Miami, do not hesitate to contact the South Miami motorcycle accident lawyers at Wolfson & Leon. We have experience in navigating the complex roads to recovery for our clients since 1963. It is likely that you'll be offered some form of settlement, but it is also likely that it won't be the amount of money that you deserve. That's why you need a lawyer who will fight aggressively for the damages you deserve.
We handle our motorcycle accident injury cases on contingency fee basis. For you, that means that you won't pay us attorney's fees until we recover for you. Call us at (305) 285-1115 for free consultations. We will answer all your questions and are at your service for representation.