Semi-Truck Accident Investigations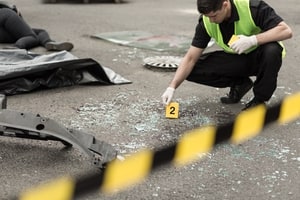 The semi-truck accident attorneys at Wolfson & Leon are committed to a complete investigation of any semi-truck accident involving one of their clients. These accidents can happen in Miami, Broward, Palm Beach, Monroe County or anywhere in Florida. It is important to follow the evidence and to ensure that every aspect of the semi-truck accident is thoroughly and professionally examined.
As you attempt to find the best semi-truck accident lawyer for your case there are a few things to keep in mind. First is you want to make sure that your truck accident attorney has the experience necessary to pursue your case against the trucking company and its insurance companies. Second, you will want to be certain that your trucking accident lawyer and law firm have the financial wherewithal to finance what is likely to be an expensive investigation. Third, you want to know that the Florida semi-truck accident attorney you select has the will to prepare your case to bring it to a satisfactory conclusion.
At Wolfson & Leon, our Miami truck accident attorneys have represented trucking accident victims for over 50 years. We understand and embrace what must be done and we are here to assist you. Our managing trial attorney, Jonah Wolfson, is a bilingual trucking accident attorney in Miami. Call us for your free consultation at (305) 285-1115.
Semi-Truck Accident Investigations
A significant part of any semi-truck accident investigation will include preservation of evidence letter sent to the owner and operator of the semi-truck. Simply put, this letter demands that the owner and operator maintain the evidence requested. It also includes a demand that evidence not be altered or lost. The failure of the owner or operator to comply with the preservation of evidence letter can result in significant sanctions and other legal ramifications.
Here are just a few of the items that a preservation of evidence letter might include following a semi-truck accident in Miami or anywhere Florida:
financial records concerning the driver
financial records concerning the truck, trailer or semi-truck
cargo transportation bills and accounting records for the trucking question
proof of all payments to the operator of the truck for the 60 days prior to the accident
pickup or delivery orders for cargo for the 30 days preceding the accident in question including but not limited to orders prepared by brokers, receivers, shippers, motor carriers, drivers, or any other company or person
all records for the operator including expense sheets and settlement sheets for the preceding 30 days and including the day of the accident
the pre-trip inspection logbook and report for the trip on the day of the accident
all social media accounts of the owner, operator or anyone else associated with the truck on the day of the accident
Miami Trucking Accident Lawyers Serving South Floridians
When you are involved in a car accident, you may have several questions about the proper actions you should take regarding your claim. If you are unfortunate enough to be involved in an accident with or caused by a semi-truck, then this could leave you with any further questions. These types of accidents could be very severe due to the size of the vehicle involved. This means that you and your vehicle could suffer great damage, whereas the semi-truck could have very minimal damage in comparison. We understand how traumatizing this could be and that is why we are ready to help you with your case and answer all questions that you may have.
Our Miami trucking accident attorneys serve the people of South Florida as well as anyone injured in a truck crash from Miami-Dade County, Martin County, Broward County, Monroe County, Palm Beach County, Collier County, Hialeah, Medley, Homestead, Fort Pierce, Port Everglades, Port St. Lucie, Florida City, Homestead, Port of Miami, Orange County, Port of Palm Beach, Fort Lauderdale, Miami International Airport, West Palm Beach, Tampa, Orlando, Fort Myers and Jacksonville.
Call to speak with a Miami truck accident lawyer for free at (305) 285-1115. Wolfson & Leon serve all Floridians from their offices in Miami, Fort Lauderdale, Fort Myers and West Palm Beach. Call for your consultation today.