Palmetto Expressway Car Accident Lawyers
Palmetto Expressway Car Accident Attorneys in Miami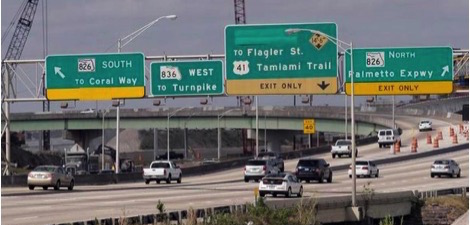 If you are a local resident, you know this expressway as simply "The Palmetto" or "The 826". If you are visiting from out of town, it is identified as State Road 826 or at the Palmetto Expressway. Once you have driven this particular road in South Florida, it is unlikely you will forget the experience. If you were injured in a car accident on the 826, you should call the Palmetto Expressway Car Accident Lawyers from Wolfson & Leon in Miami. If you would like to find out more, call us at (305) 285-1115 for a free consultation. We are available 24/7, Jonah Wolfson is a bilingual personal injury attorney from Miami and we can come to you. All you need to do is call us right now.
The Palmetto Expressway
This express way originated in 1956. Ultimately the Palmetto was built as a work around north and south roadway. As it now stands, the 826 extends from South Dade south of the Merrick Park Mall to Sunny Isles Beach. Depending on where you enter and exit, the Palmetto could go north and south or east and west. If you drive the entire distance, you will ride on highways to city streets but without any tolls. And you won't be alone. The Palmetto has over 250,000 vehicles on a daily basis.
If you don't believe how busy the Palmetto Expressway is, our Miami Car Accident Lawyers would tell you to just check the traffic reports during rush hour on any given day. Some days it seems like a demolition derby out there.
The Palmetto Express way extends through the following cities and towns in Miami:
Pinecrest
Kendall
Glenvar Heights
Doral
Medley
Hialeah
Hialeah Gardens
Hialeah-Miami Lakes (HML)
Miami Lakes
North Miami
North Miami Beach
Sunny Isles Beach
The Palmetto Expressway also intersects with some of our major roads and highways in Miami. The Miami Serious Injury Car Accident Attorneys at Wolfson & Leon have handled personal injury claims from accidents that happened on the Palmetto and these intersecting roads:
The Dolphin Expressway also known as "The 836" east of the Dolphin Mall
Bird Road which is SW 40th Street near Westchester
SW 8th Street near Little Havana which is often referred to as Tamiami Trail
Miller Drive which is SW 56th Street
Kendall Drive near US 1 (Dixie Highway)
Flagler Street
Doral Boulevard
Okeechobee Road
Gratigny Parkway which becomes I-75 Northbound into Broward County
Florida Turnpike
I-95
State Road 441
Golden Glades Interchange
Biscayne Boulevard south of the Aventura Mall
If you listen to the traffic reports, you might hear something called "The Big Curve". That term refers to a portion of the Palmetto where the roadway turns at a 90 degree angle to the east. Multiple accidents happen on the Big Curve and our Big Curve Miami Car Accident Attorneys have the experience of representing good folks injured or killed on the Big Curve in Miami. If you or your family were in a car accident on the Big Curve we would encourage you to call our Miami Personal Injury Lawyers at (305) 285-1115 for your free consultation.
Palmetto Expressway Car Accident Lawyers in Miami
Accidents happen all the time on the Palmetto. With 250,000 vehicles or more per day, crashes are inevitable. Our State Road 826 Car Accident Attorneys have represented personal injury victims injured in the following types of accidents:
Our attorneys can investigate the facts of your accident and find the wrongdoer who did not follow the safety rules which left you injured.
Palmetto Expressway Construction Accidents in Miami
In addition to these types of accidents, some people are injured because of the never-ending construction on various parts of the Palmetto. If you were injured because of construction site negligence such as improperly place barriers, failure to warn, uneven roads or debris figuring out who is responsible can be tricky. Often the investigation includes review site plans, proposals, construction logs and even an investigator on site. Most records for public road projects are available through a Public Records Act request under Florida Statue Chapter 119.
After the records are acquired, then those documents need to be reviewed. That review is usually an expert that will work with our Car Accident Lawyers in Miami to figure out if the general contractor or someone else is responsible. Sometimes, Florida Department of Transportation (FDOT) is the at-fault party. The Palmetto Expressway Accident Attorneys of Miami at Wolfson & Leon have handled these types of cases and are available to speak with you at (305) 285-1115 anytime.
Miami Car Accident Attorneys
One car accident can have a ripple effect throughout your whole family. We understand that. We know you want to get your car fixed. You want to see good doctors who can help you. You want to have your case handled quickly but you also want the at-fault party held fully responsible. We get that. That is why at Wolfson & Leon, the focus of our Car Accident Lawyers in Miami is focused on moving your case to settlement or verdict as quickly as the system will allow. Please check out our recent cases and our qualifications and ask us anything you like. We want you to be comfortable with your decision to choose Wolfson & Leon as your personal injury lawyer in Miami.
Want to learn more? Just call the Palmetto Expressway Car Accident Lawyers at (305) 285-1115 today. We are available 24/7 and we can come see you if necessary.

The Miami Personal Injury Attorneys at Wolfson & Leon serve clients from communities and neighborhoods throughout Florida including Boca Raton, Dania Beach, Weston, Allapattah, Little Havana, Miramar, Pembroke Park, Sunrise, Ives Dairy Estates, Ojus, Opa-Locka and Miami.