Overtown Accident and Personal Injury Attorneys
Overtown Miami Personal Injury Lawyers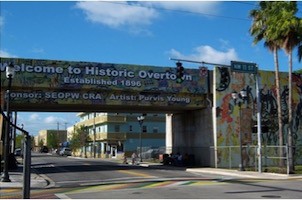 At Wolfson & Leon in Miami, our Overtown injury lawyers can help you if you were injured in any type of accident. We have served the community of Overtown and all of Miami since 1963 and we know what to do. Our personal injury legal team is standing by 24/7 and we are ready to help you and your loved ones. All you have to do is give us a call at (305) 285-1115 and we can start working on your case immediately.
Overtown History
As the 1950s came to close, Overtown suffered serious economic decline. Things like the construction of many interstate highways (such as I-95) and various urban renewal programs, fragmented the once thriving community, cutting its population size from 50,000 to 10,000 turning this prosperous area into a "ghetto" with many businesses closing and activity stagnating in the neighborhood.
During the 1990s and 2000s, the neighborhood has steadily improved with the renovations of the historic Lyric Theater along with revitalization and gentrification efforts supported by both the city of Miami and Miami-Dade County.
In the current year, David Beckham has secured land in the neighborhood for a Major League Soccer expansion franchise in Miami. Its current population is estimated to be at 10,029. Overtown still hosts many historic sites, such as Dana Albert Dorsey House, Lyric Theater, Greater Bethel African Methodist Episcopal Church, Mt. Zion Baptist Church, and St. John's Baptist Church.
Overtown Accident Injury Lawyers
Our injury attorneys in Miami help folks hurt in all types of accident cases. If you, a friend or a loved one were hurt because of the intentional act or negligence of someone or a company, you should consult a Miami personal injury lawyer. You should never be a silent victim.
Search out and find the answers you need to determine if there some person or corporation that may be responsible for your medical expenses, lost wages, rehabilitation bills, pain, losses and suffering. You owe that to your family and yourself.
Wolfson & Leon helps injury victims who were hurt in:
Miami Personal Injury Lawyers Advise and Inform Overtown Residents
An important part of our service to all clients is to educate and inform. Our Miami personal injury lawyers work diligently to advise clients and their families on the complex legal situations that may impact them in the future including:
Miami Personal Injury Lawyers Serving Overtown
If you live or work in Overtown and were injured in any manner due to the negligence or intentional acts of another individual or company, the Miami personal injury lawyers at Wolfson & Leon can help. We offer free consultations and work on a contingency fee basis. That means you only owe us fees if we make a recovery for you. In certain cases we can get an insurance company to pay our attorneys' fees. We can explain that in greater detail when you call us at (305) 285-1115.
The Miami personal injury attorneys at Wolfson & Leon proudly serve not only the Overtown community but also serve the folks in Edgewater, Miami Beach, Downtown Miami, Liberty City, Midtown, Wynwood, Miami Gardens, Brownsville, Little Haiti, North Miami, Hialeah and North Miami Beach.