North Miami Motorcycle Accidents
North Miami Motorcycle Accident Lawyers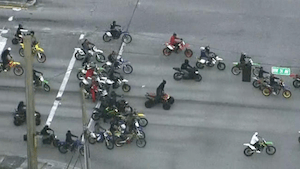 If you were in a North Miami motorcycle accident, you should call a Miami motorcycle injury lawyer. If you live in North Miami and were injured in a motorcycle accident, you will probably need the advice and guidance of a North Miami motorcycle accident attorney.
At Wolfson & Leon, our North Miami motorcycle accident lawyers are ready to help you and your family. We know how much a serious motorcycle can impact you and your loved ones. You will have medical bills that need to be paid. You may lose time from work. Then there is the inherent prejudice and bias against motorcycle riders that exists in our society.
The North Miami motorcycle injury lawyers at Wolfson & Leon can answer your questions and help you get the financial recovery that you are entitled to after your North Miami motorcycle crash. If you call us at (305) 285-1115 we will meet with you and answer your questions. We can assist you in understanding what your options might be. But we can only help you if you call us so call now and let's get started on your case.
North Miami – The City of Progress
North Miami calls itself the "City of Progress". It is located in the northeast quadrant of Miami-Dade County. It is the sixth largest city in the county. There are more than 68,000 people who call North Miami home. The zip codes for North Miami are: 33181; 33169; 33168; 33167; 33162; 33161.
North Miami is also the home to Oleta River State Park which has a large concentration of Australian Pine Trees (Casuarina trees) which is an invasive species. Oleta is Florida's largest urban state park.
North Miami is home to the Biscayne Bay Campus of FIU and the North Miami Campus of Johnson & Wales. The neighborhoods of North Miami include: City Center; San Souci Estates; and Keystone Islands.
Motorcycle Accidents in North Miami
Whether you use a motorcycle on a daily basis or you are a "weekend warrior", there is no denying just how dangerous riding a motorcycle in North Miami and in South Florida can be. South Florida drivers can be dangerous for motorcycle riders. Our North Miami motorcycle accident lawyers have seen the results including:
North Miami Motorcycle Left Turn Accidents
Rear End Crashes Involving Motorcycles in North Miami
Motorcycle Head-on Collisions in North Miami
Motorcycle Accidents in North Miami with Trucks
Failure to Yield Motorcycle Accidents in North Miami
Uber Accidents with Motorcycles in North Miami
North Miami Motorcycle Sideswipe Accidents
Drunk or Impaired Drivers Injuring North Miami Motorcycle Riders
North Miami Distracted Drivers Causing Motorcycle Accidents
These motorcycle accidents happen all over North Miami. The main roads that bear a majority of the traffic include: I-95; Biscayne Blvd; Dixie Highway; NE 125th Street; and NW 135th Street. No matter where your motorcycle accident happens, you should consult with a Miami motorcycle accident lawyer as soon as possible.
North Miami Motorcycle Accident Lawyers
Our attorneys can advise you on every aspect of your North Miami motorcycle accident. There is a lot to consider and decide after a motorcycle crash. Some of the issues you may need information on include:
Common Causes of Motorcycle Injury Accidents
Motorcycle Accident Injury and Death Statistics
Motorcycle Accident Evidence
Common Motorcycle Accident Injuries
How Insurance Companies Defend Motorcycle Accident Cases
Miami Motorcycle Accidents Resulting in Wrongful Death
What to Do After a Motorcycle Accident in North Miami
How to Find the Best Motorcycle Accident Attorney in North Miami
Once you call us we will schedule you for a free and confidential consultation wherever and whenever it is best for you. We encourage you to review our recent cases and qualifications. We will handle your entire case through settlement or jury verdict. If you want us to get to work on your case all you have to do is call us at (305) 285-1115. Don't be a silent victim. Let our Miami personal injury lawyers help you get the financial compensation that you are entitled to after your North Miami motorcycle crash.
Our personal injury lawyers in Miami represent people throughout South Florida including: Edgewater, Golden Glades, Sunny Isles Beach, Opa Locka, Westview, Pinewood, Biscayne Park, Aventura, Golden Beach, Midtown, Wynwood, Miami Beach, North Miami Beach and Miami Shores.
Call (305) 285-1115 to speak with a North Miami Motorcycle Accident Professional Today.