North Miami Beach Uber Accidents
North Miami Beach (NMB) Uber Injury Lawyers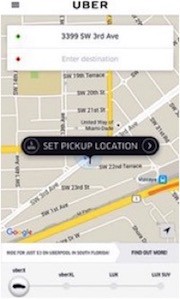 People in South Florida love Uber. At the present time, there are more than 12,000 Uber and Lyft drivers in Miami-Dade County. That number is expected to increase over time with the launch of UberEATS. As more people sign up to drive for Uber and Lyft, the probability of car accidents increase. The NMB Uber car accident lawyers of Wolfson & Leon can help you if you were injured in a car crash involving Uber or Lyft.
Our North Miami Beach Uber accident lawyers represent Uber drivers and passengers injured in car wrecks. NMB Uber accidents can involve:
NMB Truck Accidents
Motorcycle Crashes in NMB
NMB Left-turn Accidents
Head-on Crashes in NMB
NMB Rear-end Accidents
Distracted Driver Accidents in NMB
Drunk Drivers and Impaired Driver Accidents in NMB
Uber Related Bicycle Accidents
Uber Wrongful Death Crashes in NMB
NMB Car Accidents
North Miami Beach Uber Injury Attorneys
If you are an Uber or Lyft driver and you are injured in a car accident in NMB, you will likely require the assistance of a Miami Uber accident lawyer. Even though Uber told you that you were covered by the Uber car insurance if you were involved in a car accident, it might be more difficult to collect than you think. There are likely to be questions of insurance coverage and exclusions with the Uber policy as well as your own car insurance. That is precisely why you should get the advice of a NMB Uber accident lawyer.
If you are a passenger in an Uber or Lyft car that is involved in a car crash and you were injured, then you should consult an Uber accident lawyer in Miami. You will need someone to help investigate the cause of the Uber car accident and determine who is responsible for your injuries and damages. Your damages can include medical bills and expenses; lost wages and earnings in the future and in the past; and your pain, suffering and humiliation in the past and in the future.
If you were injured in a car accident in NMB with an Uber driver who was at fault, you should contact the NMB Uber accident attorneys at Wolfson & Leon. We can work with a team of experts to investigate the cause of the accident and your injuries from the Uber accident. Our Uber accident lawyers have helped Floridians in car accidents since 1963 and we can help you now. Just call us at (305) 285-1115 for your free and confidential consultation.
Our NMB Uber car accident lawyers in Miami can advise you what to do after an Uber accident. One member of our NMB Uber injury team is a former Uber and Lyft driver and is able to provide a unique insight into what Uber drivers face on a daily basis. We can help but only after you call us at (305) 285-1115.
NMB Injury Attorneys and Accident Lawyers
The Miami personal injury lawyers at Wolfson & Leon help the people of South Florida who were killed or injured by the negligence of others. Our Miami injury lawyers represent individuals hurt in:
North Miami Beach Slip and Fall
Medical Malpractice in North Miami Beach
Bicycle Accidents in North Miami Beach
North Miami Beach Wrongful Death
Premises Liability Accidents in North Miami Beach
North Miami Beach Boating Accidents
Cruise Ship Accidents
Pedestrian Accidents in North Miami Beach
North Miami Beach Serious Injury Accidents
North Miami Beach Uninsured / Underinsured Driver Claims
Truck Accidents in North Miami Beach
North Miami Beach Car Accidents
Since the 1960's, the NMB wrongful death and injury lawyers of Wolfson & Leon have represented Floridians including but not limited to the communities of Edgewater, Brickell, North Miami, Golden Glades, Aventura, Hallandale Beach, Sunny Isles Beach, Miramar, Miami Beach, North Beach, Midtown and Wynwood.
Call (305) 285-1115 Today to Speak with a NMB Injury Attorney