Naples Auto Accident Attorney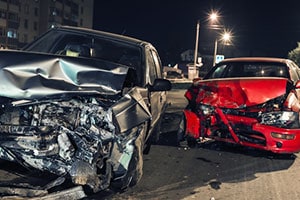 If you've got injured in an auto accident in Naples, Florida, you are not alone. On average, every other day a person suffers personal injuries due to a car accident there. Various reasons are leading to this situation, but the most common include driving under influence, distracted driving, tailgating, drunk driving, improper lane changes, wrongful overtaking, and other reasons always related to lack of respect of the safety rules.
If everyone followed the traffic safety rules, roads would be virtually free of accidents. But very few people do respect them; hence our Naples car accident lawyers stand ready to assist victims of negligence by representing all the folks who have sustained injuries.
If you or a loved one is injured as well, you will likely need advice. You can get it through our free initial consultations at (239) 777-9954. The Naples auto accident attorneys at the Wolfson Law Firm offer these consultations to help people determine whether it is worth pursuing damages recovery before incurring any costs. We will present you with your options for free of charge, and you'll be able to make an informed decision on what to do next. If you choose to proceed with us, you won't pay fees unless we recover compensation for you.
Naples Auto Accidents
The total number of car accidents in Naples, Florida, varies greatly throughout the last few years. In 2014, there have been 517 crashes, in 2015, the number went down to 329, it went up again in 2016 with 525 accident, and down again to 292 in 2017. Up to half of them result in personal injuries. The most common ones include broken bones, head injuries, back injuries, and less serious ones such as bruises and scars.
When people with these injuries want to get compensated for their harms and losses, our Naples car crash attorneys are available to serve them as:
Sideswipe and merging car accidents lawyer in Naples
Naples Lyft driver car accident lawyer
Left turn car accident lawyer in Naples
Naples rear-end car collision lawyer
Naples road rage car accident lawyer
Naples bridge car accident lawyer
Naples Uber driver car accident lawyer
Rollover car accident lawyer in Naples
Naples T-bone car accident lawyer
Drunk driving car accidents injury lawyer in Naples
Naples wrongful death lawyer for claims due to car accidents
Injury attorney for Naples rear-end car collision with motorcyclist lawyer
Naples car accident lawyer for injuries involving Uber or Lyft driver lawyer
Auto pedestrian injury accident lawyer in Naples
Head-on collision lawyer in Naples
If you were injured in another type of car accident, you should know that it doesn't necessarily deprive you of financial recovery. Just contact us, and we will clarify that for you.
Naples Auto Accident Attorneys
If you haven't called for the free consultations yet, you may be wondering what you can expect from your Naples auto accident attorneys at the Wolfson Law Firm. Here is how it usually unfolds:
We start with free consultations. You explain to us your case, and we present you with your options.
With our help, you decide whether you'll pursue compensation.
If you decide to proceed on the road to financial recovery with us, we start building your case. We work with witnesses, expert witnesses, doctors, and anyone else who could help us prove our claims in a convincing manner.
Once we build the case, we propose a settlement to the insurance company. If they accept, that would be the fastest way to recovery.
If they don't accept, we file a lawsuit and go to trial if required.
If needed, we appeal the judge or the verdict.
Only if we recover compensation for you, then we charge fees.
Reach us at (239) 777-9954. We serve Naples and the surrounding communities such as Estero, Marco Island, Captiva, East Naples, Lehigh Acres, Golden Gate Bonita Springs, Fort Myers, Cape Coral, Immokalee, Goodland, Cape Coral, Lehigh Acres, North Fort Myers and Sanibel.