Miami Traumatic Brain Injury Lawyer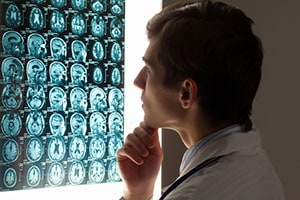 Even minor car accidents can cause injury. When a car crashes into another moving vehicle or stationary object, passengers in the car can hit their heads against windows, dashboard, and steering wheels. You may feel the bumps and see the bruises, but you may also experience a concussion.
Although concussions are typically not life-threatening, they are a medical injury and require a patient to go through a period of recovery. This period of time can range from a few days to a few months. Miami car accident victims who have suffered a concussion may be unable to work during this time. Loss of income, along with medical bills, can cause a financial stress on their family. If you or someone you love has suffered any type of impact to their head as the result of a car accident, speak to the Miami traumatic brain injury attorneys at Wolfson & Leon. Call (305) 285-1115 for a free review of your case.
What is a Concussion?
A concussion is a brain injury that occurs when a person suffers a blow to their head. It can also happen if the body is hit in a way that is causes the head to jolt back and forth quickly. When this happens with such force, it can change or damage the brain's cells.
While a concussion may appear to be a relatively minor condition, it is important to seek medical attention to determine the extent of the injury. This may require a CT scan or other neurological tests that may identify that you have suffered from a concussion and how serious its impact may be. In addition, if you are taking medication or have had a concussion in the past, speaking to a doctor is essential as these may cause complications during your recovery process.
Top 6 Things to Know About TBI Litigation
Traumatic brain injuries or (TBI) are an incredibly common issues that affects over 1.5 million Americans and results in over 50,000 deaths in this country per year. The past two decades have seen a lot of change in the way medical science looks at and treats TBIs. Most of the reported TBIs are due to everyday accidents, such as slip and falls, automobile accidents, or sport-related injuries.
Much of what we had thought we knew about TBI has been found to actually be false and updated following decades-long studies. For example, it used to be thought that if a person did not lose consciousness, then that person would likely not suffer any serious or permanent injury. Nowadays, we know that is largely untrue.
Unfortunately, while medical science may have progressed many in the insurance field still have old views of TBIs. This can lead to serious complications if you or a loved one tries to obtain fair compensation for suffering from a TBI.
If you have suffered a head injury and think that you may have a TBI, then there are several important things that you need to know in order to get your fair compensation.
The first and most important thing people need to know is that proving that you have a TBI can be difficult and take time. In general, insurance companies do not want to give out any money. That means that obtaining objective, concrete evidence is necessary to getting your fair compensation.
It is important to know that when pursuing a TBI injury claim, you will be opening up your life. The insurance attorneys will be looking for anything that they can point to say that they you do not have a TBI, so they do not have to pay you anything. This means, that they will be able to go through essentially anything in your life. For example, they can through your medical records all the way from elementary school. They can even obtain any psychological reports from your past.
The second thing to know about TBI litigation is that new technology has been developed over the past two decades that has allowed doctors to better determine whether a person has a TBI. In the past, doctors mostly relied on MRI or CT scans, and it was thought that if a person had a normal scan, then they did not have a TBI. Now, however, we know that is not the case. Fortunately, MRI machines and their accompanying software have undergone serious upgrades that allow doctors to better determine whether a person has a TBI.
The third important thing to know if you have a TBI is that recovery can be very complicated. Every injury is different. Some recoveries can be fairly simple, while others can be very complex. The length of recovery generally depends on how severe the TBI is.
For example, a person with a mild TBI will have a relatively short recovery period. The majority of those with a mild TBI diagnosis (around 80%) will typically recover is approximately 6 weeks. A TBI is considered mild if a person suffers from a loss of consciousness for less than 30 minutes; however, such TBIs will not show up on typical MRI/CT scans. However, if a person has a pre-existing injury, recovery may be complicated, even if the person has a fairly mild TBI.
Rehabilitation can be fairly difficult. People with TBIs can lack a self-awareness on what they can and cannot do. If a loved one or a friend suffers from a TBI and is demonstrating a lack of self-awareness, it is important for you to share your concerns with them.
Returning to work can also be fairly difficult after suffering a TBI. People with TBIs can quickly become disoriented and may find it hard to deal with the everyday stress of jobs. It is important for these people to be slowly reintroduced into society.
The fourth important thing to know is that injuries in your frontal lobe can be incredibly serious. The front portion of a person's brain is thought to be the most advanced portion of the brain. It contains the parts necessary for thought and speech. Unfortunately, it is a region that is very prone to injury, and such injuries are often missed by doctors.
Diffusion Tensor Imaging (DTI)
The first new technology is called Diffusion Tensor Imaging (DTI). This technology is an advanced MRI technology that was actually first developed in the mid-1980's. It allows doctors to see the location of white matter tracts in a person's brain, which a normal MRI machine cannot show. According to a 2013 article in the American Journal of Neuroradiology, the white matter microstructure in a person's brain is considered "to be the most important location of pathology in TBI." The article continues by stating that, "Despite significant variability in sample characteristics, technical aspects of imaging, and analysis approaches, the consensus is that DTI effectively differentiates patients with TBI and controls, regardless of the severity and timeframe following injury. Furthermore, many have established a relationship between DTI measures and TBI outcomes."
The second new technology is Susceptibility Weighted Imaging (SWI). Like DTI, SWI is an advanced form of MRIs. SWI allows doctors to spot micro-hemorrhages, or extremely tiny cuts in the brain that cause bleeding. The technology finds these micro cuts by looking for any iron molecules that result from the micro-cuts in the brain. Depending on the severity of the accident, a person could have hundreds of micro-cuts.
The last new technology is Magnetic Resonance Spectroscopy (MRS). With this technology, an MRI is able to detect certain biochemical changes in a person's brain. This type of technology is still new but is quickly gaining traction.
Traumatic Brain Injury Issues
One serious issue that can develop from a frontal lobe injury is a condition called "disinhibition." This is a condition where any thought becomes speech, and it can seriously complicate a person's life, often leading to social awkwardness or addiction.
Another important factor to remember is that a TBI may make you more susceptible to dementia in the future. Cognitive reserve is the amount of brain matter (such as brain cells) a person has. The depletion of such matter can greatly increase the chance a person has for developing dementia.
Lastly, it is important for people to know exactly how insurance companies will act when told that you have a potential TBI. Every insurance company will try to contact you as soon as possible. Most likely, they will try to record any conversation they have with you. They will try to use any "normal" conversation they have with you to prove that you do not have a TBI. This is despite the fact that being able to speak normally is not a great indicator of whether a person has a TBI.
Again, the insurance company will try to go through your entire life. This can include even going through your trash. Remember all social media (Facebook, Twitter, Instagram, etc.) are completely fair game for insurance companies.
Miami Brain Injury Law Firm
Miami is one of the best-known tourist destinations in the world. With warm and tropical weather throughout the year, over 23.3 billion overnight and daily Miami visitors spent almost $18 billion in the area in 2018. The large influx of tourists is a welcome sight for the city as visitors book flights, hotel rooms, and rental cars. They also visit the variety of cultural, recreational, and entertainment attractions located throughout downtown Miami, Coconut Grove, South Beach, Coral Gables, Key Biscayne, and other surrounding cities.
The high volume of travelling visitors on the roads adds to the commuter congestion that Miami and its surrounding communities often experience. There were 63,876 car accidents in Miami-Dade County in 2018. Of these accidents, 30,972 people sustained injuries.
Miami Concussion Injury Attorney
The Miami accident injury lawyers at Wolfson & Leon represent the rights of those who have been injured through no fault of their own. We represent clients in the many capacities including;
Miami attorney for injured car accident victim
Car accident victim suffering from traumatic brain injury lawyer
Attorney for serious car crash concussion injury in Miami
Pedestrian parking lot slip and fall accident head injury lawyer in Miami
Miami attorney for car crash brain injury
Grocery store slip and fall accident injury attorney in Miami
Automobile crash passenger head injury lawyer in Miami
Attorney for injury victim of criminal activity in Miami resulting in head trauma
Miami trip and fall traumatic brain injury attorney
Miami Traumatic Brain Injury Accident Law Firm
The Miami personal injury attorneys at Wolfson & Leon represent any accident victims who have suffered brain injuries. We defend the rights of Miami accident victims against insurance companies and their legal teams. With offices located in Miami, Fort Lauderdale, West Palm Beach, and Fort Myers, we serve clients throughout Florida. If you or a loved one has been injured as the result of an accident, contact our Miami traumatic brain injury accident lawyers at Wolfson & Leon. For a free evaluation of your case, call (305) 285-1115 today.