Miami Gardens Slip and Fall Lawyers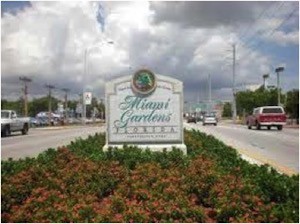 If you or a loved one were injured in a Miami Gardens slip and fall accident you may be entitled to recover money damages from the responsible party but you will need to prove your case. The Miami Gardens Slip and Fall Lawyers at Wolfson & Leon have been representing slip and fall injury victims in Miami for over 55 years and they stand ready to help you now.
City of Miami Gardens
Miami Gardens includes the neighborhoods of Scott Lake, Norwood, Lake Lucerne, Carol City, Bunche Park, Andover, and Opa-locka North. The zip codes for Miami Gardens are 33169, 33014, 33152, 33054, 33056, and 33055. The most famous location in Miami Gardens is the building where the Miami Dolphins play NFL Football. It is presently called "New Miami Stadium" while the team searches for a new corporate sponsor. It was formerly known as Sun Life Stadium and Joe Robbie Stadium.
Slip and Fall Accidents in Miami Gardens
Slip and fall accidents happen in places just like New Miami Stadium. The owners of stadium and other commercial businesses like Walmart, Calder Race Course and Casino and Publix all owe their guests and invitees a duty to keep the property safe. That duty includes not allowing:
Exposed construction sites
Falling lights, boxes or poles
Malfunctioning escalators
Debris or garbage on the floor
Improper lighting in hallways or stairwells
Missing or broken handrails
Wet floors
Uneven stairs
Poorly maintained elevators
Exposed electric wiring
Pathways that are unreasonably slippery due to mold
Floors that are slippery because of making the wrong choice of paint or polished concrete
Investigation of Miami Gardens Slip and Fall
The Slip and Fall Attorneys serving Miami Gardens investigate the claims of their clients and when needed, employ the necessary experts to determine who is responsible for the injuries. Experts in the Florida Building Code are consulted to provide opinions of whether the defendant's property was constructed in a manner that met or exceeded the Code. Other experts can include engineers, human factors, and construction management.
The investigation can include a search for public records showing prior and similar incidents. If previous accidents are discovered, then the property owner will not be able to claim that they had no notice of the dangerous condition. This is a very common defense asserted by property owners, insurance companies and insurance defense attorneys.
Another area of investigation is to determine if there are any videotapes of the slip and fall. To get this information, the Miami Gardens Slip and Fall Attorneys usually require the assistance of the court. To get the court's help a lawsuit must be filed. Our lawyers have had numerous hearings on the issue of whether a defendant store owner must provide a copy of the videotape showing the actual slip and fall.
The Miami Gardens Slip and Fall Lawyers
Our Miami Gardens Slip and Fall Lawyers represent people in all types of personal injury including:
Slip and fall injuries can be very traumatic. Often there is direct contact with no protection. In a car accident, the vehicle can absorb much of the impact. In slip and fall or trip and fall accidents, the victim is directly impacted. The injuries from a slip and fall can include:
Back injury
Herniated disc
Meniscal tears in the knee
Lacerations requiring stitches
Fracture of the nose
Dental injuries
Dislocated shoulder
Fractured eye socket (orbital)
Torn rotator cuff in the shoulder
Fractured ankle, feet or toes
If you or your family member is injured in Miami Gardens Slip and Fall, then you should call the personal injury attorneys at Wolfson & Leon. We are located at 3399 SW 3d Avenue in Miami and we have been helping injured people since 1963. Call today at (305) 285-1115 for a free consultation. Wolfson & Leon represents people with personal injuries in Hallandale, Allapattah, Opa-locka, The Roads, North Miami, Ojus, Westchester, Norland and all across South Florida neighborhoods and communities.
---
CALL NOW TO SPEAK TO A LEGAL PROFESSIONAL (305) 285-1115
or click here to submit your personal injury questions.