Miami Car Crash Lawyer for Liberty City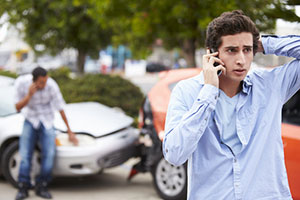 As you are travelling to work on I-95, your car is suddenly clipped by a construction truck changing lane. You lose control and hit a guardrail. While you survived the accident, the next few months of your life will be filled with medical treatments, physical therapy, and doctor visits. You can't work during your recovery period and it's getting harder and harder to pay your everyday living expenses.
If you or someone you love has been seriously injured in a car accident involving a construction truck, you should speak with a personal injury attorney. An accident of this nature can bring certain complexities as there may be more parties responsible for the accident, beyond the truck driver. A Miami car accident attorney can help you by navigating through the facts and circumstances of your accident and identify those parties who may hold some responsibility for the accident. This can include the construction company and the owner of the truck, as well as the driver. If you've been involved in a collision with a large truck, you have rights. Liberty City car crash attorneys at Wolfson & Leon are available for a free consultation by calling (305) 285-1115.
Liberty City Automobile Accident Injury Lawyer
Over the years, Liberty City has gone through many transitions. Once a thriving city for middle income African American families, it fell into decline as housing restrictions were relaxed. When I-95 was completed, crime began to increase as more people had easy access to the city. Income levels began to fall, causing many families to face financial challenges. The poverty rate has continued to rise and it is estimated that 62% of children under the age of 18 live in poverty. Overall, 34% of the population lives below the poverty line. The unemployment rate is estimated at 13.4%, which is significantly higher than the national average of 5%.
Liberty City has 20,934 residents with its population almost evenly split between men and women. The city is predominantly African American and the median age is 36 years. The median age of the residents in Liberty City is 49.7 years. There are 6,533 households in Liberty City of which 34% have children living in the home.
Miami Car Accident Attorney in Liberty City
We help Liberty City residents who have been injured in car accidents. Wolfson & Leon defends victims who have been injured as the result of;
Liberty City car accident injury attorney
Miami lawyer for car crash accident injury resulting from running a stop sign
Bicycle rider hit by a speeding car causing a serious injury attorney in Liberty City
Attorney for large truck crash causing injury in Liberty City
Miami lawyer for bicyclist injured by car backing out
Liberty City car defect causing a car crash injury lawyer
Miami failure to stop at a red light car crash injury attorney
Intoxicated driver car accident lawyer in Liberty City
Wrongful death car crash accident lawyer in Liberty City
Head-on collision car crash injury attorney in Liberty City
Defective brakes causing an automobile accident with injuries in Miami
Texting car accident injury Liberty City lawyer
Mobile phone distracted driver automobile accident lawyer in Miami
Wrong-way accident injury lawyer in Liberty City
Attorney for hit and run car accident injury in Liberty City
Motorcycle accident involving a car injury lawyer in Miami
Sidewalk car crash pedestrian injury Liberty City lawyer
Large commercial truck injury accident attorney in Liberty City
Lawyer for pedestrian injured in crosswalk car crash in Miami
Liberty City high speed highway car chase resulting in serious injury lawyer
Parking lot car accident injury lawyer in Liberty City
Failure to yield automobile crash injury attorney in Miami
Liberty City lawyer for rear-end automobile accident injury
Liberty City attorney for automobile crash injury resulting from impaired driver
Miami Automobile Crash Injury Law Firm for Liberty City
For over 55 years, the Miami automobile accident lawyers at Wolfson & Leon have defended the rights of victims involving in crashes with large trucks. Our personal injury attorneys represent your interests when negotiating with insurance companies, legal teams, or large corporations. If negotiation is not an option, our Miami car crash lawyers will defend your rights in a court of law. If you have been injured in a car crash involving a large truck, call Wolfson & Leon at (305) 285-1115 for a free evaluation of your case.