Miami Car Crash Lawyer for Coral Gables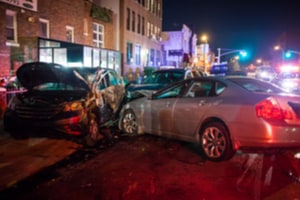 Coral Gables is known for its tree-laden sleepy neighborhoods. Filled with Mediterranean-style historic homes and buildings, Coral Gables is a great city to relax by going for a walk or riding your bike to take in the sights. With lush landscaping and plenty of nature abound, there are always people out and about in Coral Gables. As relaxing as a bike ride can be, cyclists who ride their bikes on busy roads can hit by cars. Travelling at high speeds or are not wearing protective gear, a bike rider can be especially vulnerable as they can sustain broken bones, head and neck injuries, road burns, or other internal injuries. Cyclists do not have doors or a car frame to protect them, so they often take the brunt of the accident with their bodies. They may be thrown from their bikes, hitting their heads on the road, sidewalk, or other hard surface.
If you have been injured by a car while riding your bike, you should speak with a Coral Gables car accident lawyer. Accident victims may be entitled to compensation to pay for medical bills, lost wages, physical rehabilitation, and long-term care. If you have questions about whether you have a case, speak with a personal injury lawyer at Wolfson & Leon today. They can answer your questions about paying for medical expenses, lost wages, and repairing your bike. For a confidential and free assessment of your case, contact Wolfson & Leon at (305) 285-1115 today.
Coral Gables Automobile Accident Injury Lawyer
Coral Gables is a historic city, known for its many landmarks. Enjoy the unique experience of the Venetian Pool, with its waterfalls and cool water. Browse through the relaxing Fairchild Tropical Botanical Gardens, featuring an array of tropical trees, flowers, and fruit. It also houses the largest palm tree collection in the county. Miracle Mile and the Shops at Merrick Park offer an outdoor entertainment experience with their multiple retail stores and restaurants.
Coral Gables is an affluent community with a median household of $96,887 and a median property value of $750,400. The city has a population of 50,909 residents, with over 58% of the population being Hispanic. The median age for a Coral Gables resident is 40 years old. Almost 50% of the population is employed and the poverty rate across the city is 7.53%. They spend an average of 22.3 minutes driving to their jobs and work predominantly in positions such as managers, administrators, and sales people.
Miami Car Accident Attorney in Coral Gables
Victims who have been injured in car accidents contact Wolfson & Leon for help. Our personal injury attorneys represent the interests of injured clients and their families who have been involved in;
Coral Gables failure to yield car accident injury attorney
Attorney for Miami hit and run car accident injury
Pedestrian hit on sidewalk by a car injury Coral Gables lawyer
Miami large commercial truck injury accident attorney
Miami head-on collision automobile accident lawyer
Texting and driving car crash injury Coral Gables lawyer
Mobile phone distraction resulting in an automobile accident lawyer in Miami
Coral Gables wrong-way accident injury lawyer
DUI driver car crash lawyer in Coral Gables
Defective automobile parts resulting in a car crash injury accident in Miami
Wrongful death car crash accident attorney in Coral Gables
Miami motorcycle accident involving a car injury attorney
Attorney for large truck accident causing injury in Coral Gables
Miami lawyer for car crash accident injury resulting from running a stop sign
Shopping center parking lot automobile accident injury lawyer in Coral Gables
Coral Gables speeding car crash injury lawyer
Parking lot car accident injury lawyer in Coral Gables
Running a red light automobile crash injury attorney in Miami
Coral Gables lawyer for rear-end automobile accident injury
Miami Automobile Accident Injury Law Firm
If you were riding your bike and were hit by a car in Coral Gables, contact the Miami car accident lawyers at Wolfson & Leon for help. They will analyze the merits of your case and advise you of your options. A personal injury attorney can help you to receive compensation for your injuries to pay for medical bills and income that you've lost while you've been in recovery. Our offices can be found in Miami, Fort Lauderdale, West Palm Beach, and Fort Myers. If you have been injured in a bike accident, you should seek professional help with your case. Call Wolfson & Leon at (305) 285-1115 today for a free analysis of your case.