Miami Car Crash Lawyer for Brickell Pedestrians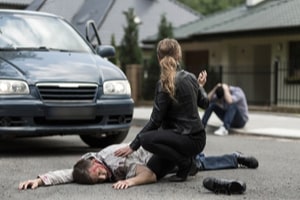 Considered the "Manhattan of the South," Brickell is the financial center of Downtown Miami. The warm, sunny weather draws millions of tourists to this upscale community every year. With several modes of public transportation located throughout the Brickell community, people are often walk to visit a variety of trendy cafes and restaurants, shopping centers, museums, and other local attractions.
Walking on sidewalks and crossing the streets in busy neighborhoods can be dangerous for pedestrians. Cars that run through stop signs or red lights can hit pedestrians trying to cross the road. Pedestrians can also be hit when cars back out of driveways or pull out of or into shopping centers. The Florida Highway Safety and Motor Vehicles reported 1,569 motor vehicle accidents involving pedestrians in Miami in 2018.
Pedestrians that are hit by moving vehicles can suffer from severe and life-changing injuries. Broken bones, burns from the road, head trauma, and internal organ damage are common in pedestrian accidents. While some injuries can be healed through medical treatment and recovery, others can result in permanent disfigurement, mobility, or cognitive damage. Accident victims with extensive injuries may need weeks, even months, to recover. Lost wages and mounting medical bills just add to the stress of their recovery.
If you or a member of your family was the victim of a pedestrian car crash, you should speak with a personal injury attorney. Victims may be entitled to receive compensation for lost income and medical treatments during their recovery period. For those who suffer from life-altering injuries, compensation may be available for continuing care. To find out what your rights are, call the Miami pedestrian accident lawyers at Wolfson & Leon. They can answer any questions you or your family may have. For a free consultation, contact Wolfson & Leon at (305) 285-1115.
Brickell Automobile Accident Lawyer
The personal injury lawyers at Wolfson & Leon represent victims and their families who have been injured in motor vehicle accidents including:
Pedestrian car crash injury accident lawyer in Miami
Brickell distracted driver automobile accident attorney
Texting and driving car crash injury lawyer in Brickell
Miami lawyer for rear-end automobile accident injury
Teen driver automobile accident Brickell injury attorney
Brickell attorney for automobile crash injury resulting from impaired driver
Head-on collision injury attorney in Brickell
Miami wrong-way accident injury lawyer
Attorney for hit and run car accident injury in Brickell
Miami drowsy driver automobile accident in Brickell
Speeding motorist car crash accident injury in Brickell
Motorcycle accident injury lawyer in Miami
Left-hand turn intersection injury crash in Brickell
Brickell hidden driveway car accident pedestrian injury attorney
Large commercial truck injury accident attorney in Brickell
Brickell high speed car chase resulting in serious injury lawyer
Parking lot car accident injury lawyer in Brickell
Miami lawyer for car crash accident injury resulting from running a stop sign
Bicycle rider hit by a speeding car causing a serious injury attorney in Brickell
Lawyer for large truck crash injury in Brickell
Miami failure to stop at a red light car crash injury attorney
Driver under the influence car accident lawyer in Brickell
Brickell Car Crash Injury Lawyer
For over 55 years, the Miami car accident lawyers at Wolfson & Leon have helped injured victims recover compensation to pay for medical treatment and lost wages. We work on your behalf with insurance companies to negotiate a settlement and will defend your rights in a court of law. No matter what you do, make sure you find out about your legal rights and duties before you make any decision after any type of automobile accident.
We offer four convenient locations in Miami, Fort Lauderdale, West Palm Beach and Fort Myers. If you were injured in a car accident and can't pay for your medical bills, physical therapy, or continuing care, contact Wolfson & Leon today. Call us today at (305) 285-1115 for a no obligation, free consultation.