Miami Car Crash Lawyer for Brazilians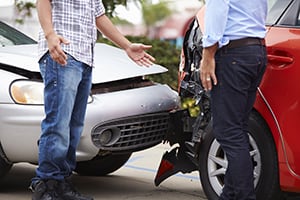 If you were injured in a car accident, you may be working directly with an insurance company to settle your claim. While they may offer you a fast settlement, accepting this may not be in your best interest. An insurance company will try to settle quickly to keep their payment to you as low as they can, but you could be missing out on compensation that you need to recover from your injuries if you accept it. Many times, injuries require continuing medical care and you may have to miss more work than you expect. If you settle early, you may not be given enough to pay these bills. This can put an extreme financial burden on you and your family.
If you were hurt in a car accident that was not your fault, you should work with a Miami car crash lawyer to settle your case. Our bilingual personal injury attorneys have defended the rights of car accident victims since 1963. We represent your best interests when negotiating your settlement or defending your rights in court. The personal injury lawyers at Wolfson & Leon work to get you the maximum compensation that you deserve. For a free case evaluation, call 305-285-1115 today.
Miami Car Accident Lawyer for People From Brazil
Brazil was originally inhabited by an estimated 2,000 indigenous tribes before the Europeans entered the territory in the early 16th century and claimed the land as part of the Portuguese Empire. Brazil remained part of Portugal until 1822 when they declared their independence.
Brazil is the largest country in South America. It covers such a large mass of land that it borders every South American country except Chile and Ecuador. Home to the Amazon rainforests, Brazil is classified as a megadiverse country with its diverse ecological systems and wide variety of wildlife. While Brazil has a history that is rich in culture and customs, security concerns have prompted Brazilians to migrate to other countries, including the United States. Miami-Dade County has a large Brazilian community living in cities such as North Bay Village, Miami Beach, and Bay Harbor Islands.
Miami Automobile Accident Law Firm
If you were hurt in an accident and have been trying to resolve your case with an insurance company, you should seek representation from a personal injury law firm. The bilingual attorneys at Wolfson & Leon will work directly with the insurance company to negotiate the best settlement for you. Our Miami automobile crash lawyers work with Brazilian residents in many ways including;
Attorney for Miami victim injured in a car accident
Failure to stop at a red light car crash injury lawyer in Miami
Brazilian injured by a wrong-way car crash
Miami pedestrian hit while crossing the street
Speeding automobile accident injury crash lawyer in Miami
Construction vehicle crash Miami lawyer for injured victim
Brazilian victim injured in a parking lot car crash
Miami attorney for bicyclist hit by a speeding car
Reckless driver car crash injury lawyer in Miami
Texting driver automobile accident injury to Brazilian victim
Dangerous intersection car accident lawyer in Miami
Miami SUV highway crash injury lawyer
Bicyclist hurt by reckless driver in Miami
Brazilian car crash injury victim rear-ended by a truck
Miami lawyer for family injured by a distracted driver
Brazilian victim hurt by DUI driver in Miami
Miami Automobile Accident Injury Law Firm for Brazilians
If you were hurt in a car crash, we are here to help you through your recovery. You may have questions about your accident and how to pay for your medical bills. We can tell you what your options are and work with the insurance company on your behalf. The personal injury attorneys at Wolfson & Leon are committed to negotiating the settlement that you deserve.
Wolfson & Leon serves people who were hurt in car crashes throughout South Florida. Our offices are located in Miami, Fort Lauderdale, West Palm Beach and Fort Myers. People who were injured in a car accident call our Miami car accident lawyers for help. Our bilingual attorneys are always available to answer your questions and advise you of the law. For your free, no-obligation consultation, call us today at 305-285-1115.