Miami Beach Car Accident Lawyers
The Miami Beach Car Accident Attorneys at Wolfson & Leon have helped car accident injury victims in South Florida for more than a combined 55 years. If you were in a car accident on Miami Beach, they can help you right now. All you have to do is call (305) 285-1115 for a free consultation.
Miami Beach Government
Miami Beach is a strong city manager form of government. The Miami Beach Charter provides for 7 Commissioners elected by registered voters of Miami Beach. The Commissioners are essentially the legislative branch of the Miami Beach municipal government. The Commissioners select the City Manager who heads the executive branch of the government. The Commissioners also consent to the Manager's selection of department heads. The Charter can be changed only through the referendum process. The Miami Beach Code can be amended by the City Commission. Land use changes need 5/7 vote. Other ordinances need a majority 4/7 votes. Public readings and notices are a strong part of the Miami Beach Code. The residents have power under the resident's bill of rights which is in the Charter.
Former Miami Beach City Commissioner Jonah Wolfson
Jonah Wolfson of Wolfson & Leon is a Miami Beach resident. He is also a former Miami Beach City Commissioner. He served for 8 years on the Commission. And he built a strong personal injury practice in Miami. Jonah has practiced law for more than 15 years and now exclusively represents personal injury victims who were involved in accidents involving cars, motorcycles, trucks, pedestrians, bicycles, Uber or Lyft accidents, uninsured and underinsured drivers and the families of those who lost their life in wrongful death cases.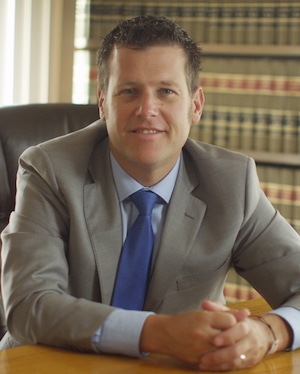 Over the years as a Beach Commissioner and as a Miami Beach Personal Injury Lawyer, Jonah's constituents and clients appreciated the fact that he is fluent in English and Spanish. Jonah Wolfson is a bilingual personal injury attorney in Miami and he is available to speak with you in English or Spanish anytime. You can see him speak in English and en Espanol in our media section. His team is also bilingual and they are ready to help. Just call (305) 285-1115 for a free consultation in Miami, Miami Beach or wherever you need him.
Miami Beach Traffic
As a Commissioner, Jonah Wolfson understood the three main concerns of Miami Beach citizens – height of buildings, the density of population and traffic. Any proposal presented to the Miami Beach City Commission is always evaluated through these prisms. Is the height appropriate and will it infringe on existing residents? Does the proposal unnecessarily increase population? Does the proposal unreasonably aggravate an already difficult traffic situation on Miami Beach?
As anyone who works or visits Miami Beach can tell you, the Beach is crowded because of tourism, commerce, construction, and ongoing infrastructure improvement. It can be congested in the morning, the afternoon, the evening or any time of the night. Traffic can be a nightmare. The most congested roads include:
Indian Creek Drive
La Gorce Drive
Meridian Avenue
South Pointe Drive
Michigan Avenue
Alton Road
Collins Avenue
Alton Road
Washington Avenue
Ocean Drive
Miami Beach Car Accidents
Miami Beach car accidents happen on these roads every day. These accidents happen 24 hours a day and 7 days a week and almost always involve some one violating a safety rule. The rules of the road are safety rules that are in place to protect us all. The safety rules for our roads are set forth in Chapter 316 of the Florida Statutes.
Our Miami Beach car accident injury lawyers have handled personal injury accidents involving:
Trucks such as 18 wheelers, box trucks, delivery trucks
Taxis, limousines and car ride services
Buses both city run, trolleys and private coach
Automobiles, smart cars, pick-up trucks, Hummers, SUV
Vespa scooters and mopeds
Motorcycles like Harley Davidson, Yamaha, Suzuki, BMW and Ducati
Pedestrians in crosswalks, exiting cars or simply walking on the sidewalk
Hoverboards and skateboards
Miami Beach Car Accident Attorneys
Our Alton Road Car Accident Lawyers will investigate your crash and represent your interests aggressively. Most drivers will not accept that a Miami Beach car accident is their fault. However, sometimes the investigation is simple like in a rear end collision. Other times it is difficult such as an intersection collision.
Miami Beach is well known for its nightlife. Clubs, bars and restaurants operate all night. This can lead to some drivers operating their cars under the influence of alcohol or drugs. Other drivers will leave the scene after causing serious injuries. The Ocean Drive Car Accident Attorneys can help you if you were hit by a drunk driver or by someone who fled the scene of an accident.
Pedestrian Accidents on Miami Beach roads such as Michigan Avenue, Collins Avenue, or Washington Avenue can be especially difficult. First is the severity of the impact. A car hitting a pedestrian can cause serious injuries or fatalities. Second, there is no guarantee that the at-fault driver will stick around. A police investigation might be necessary. Our Lincoln Mall Pedestrian Accident Lawyers can track the police investigation to help find the responsible party.
Our Collins Avenue Car Accident Attorneys will get the necessary experts involved to help prove your Miami Beach personal injury claim. The necessary experts for a car or pedestrian car accident on Miami Beach can include the fields of accident reconstruction, physics, engineering and human factors. Our Miami Beach Personal Injury Attorneys work with these experts on a regular basis to prove fault in complex and serious car accidents.
The Miami Beach Personal Injury Attorneys at Wolfson & Leon have helped local residents of Miami Beach neighborhoods including:
Biscayne Point
North Shore
La Gorce
Normandy Shores
Normandy Sud
Nautilus
Bayshore
City Center
South Point
Flamingo/Lummus
West Avenue
Venetian Islands
Entertainment District
South of Fifth
Mid-Beach
Our Miami Beach Car Accident Injury Lawyers have also assisted clients who were visiting Miami Beach from other states in the United States and from countries in Europe, South America and Asia.
If you were injured in a Miami Beach Car Accident and you don't know if you have a case, then you should call Miami Beach Serious Injury Attorneys at Wolfson & Leon. Our Miami Beach personal injury lawyers can help you if you were injured in a car accident or pedestrian accident on Indian Creek Drive, Michigan Avenue, Collins Avenue, Washington Avenue, and Alton Road or anywhere on Miami Beach.
Miami Beach Personal Injury Lawyers
The Miami Personal Injury Attorneys at Wolfson & Leon have been assisting injury victims since 1963. Our clients come from the neighborhoods of Miami and Miami Beach as well as other countries such as China, Argentina, Brazil, Venezuela, Spain, England, Japan, Colombia, Nicaragua, Germany and many other countries.
The Miami Beach Car Accident Injury Lawyers at Wolfson & Leon have proudly help people injured at the Miami International Airport, and on South Beach, North Beach, Fontainebleau, Mid Beach, Allapattah, The Roads, Tamiami, Key Biscayne, Flagami, Venetian Islands and many other communities throughout South Florida. Call us today for a free consultation at (305) 285-1115.
---
CALL NOW TO SPEAK TO A LEGAL PROFESSIONAL (305) 285-1115
or click here to submit your personal injury questions.