Miami Automobile Accident Lawyer for Peruvians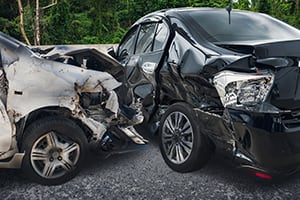 Last year, over 16.5 million visitors came to experience the warm weather and sandy beaches that Miami is known for. With its vibrant nightlife, high-end shopping, and trendy restaurants and cafes, the streets in Miami are often gridlocked with tourists checking out the town and residents scurrying between work and home.
Whether you live in Miami or are just visiting, if you were hurt in a car crash, you should seek the help of a Miami car crash lawyer. The personal injury attorneys at Wolfson & Leon are dedicated to getting the maximum settlement for clients who were injured in automobile accidents. They are well-versed in Florida law and will take the time to explain your options to you. We have bilingual attorneys on staff who can advise you of your rights. Your first consultation is free – call us today at 305-285-1115.
Dangerous Roads in Miami
With so many tourists and visitors coming to the Miami area, it's no wonder that the roads and highways are packed with cars. If you look within Miami-Dade County, you'll find some of the most dangerous roads in the state.
I-95 spans the state of Florida and is heavily travelled by residents and tourists. Regardless of the time of day, gridlock and traffic jams are commonly found on this dangerous highway.
US 441 – This busy road is often used by commuters to get to work. With its high speed limit and multiple traffic lights, accidents can often occur as drivers race through red lights.
Palmetto Expressway – Located on State Road 826, which sees an estimated 250,000 cars every day, the Palmetto Expressway connects commuters to busy cities like Hialeah, Miami, and Miami Lakes. The large volume of cars on this highway makes it one of the deadliest roads in Miami.
State Road US 1 – This road runs all the way from the Keys up to the Canadian border. In Miami, it is a heavily travelled road resembling a highway with its multiple lanes and high speed, yet it is filled with traffic lights. Cars often pull in and out of the shopping centers and businesses that are located directly on State Road US 1 in some areas, which can create hazards for drivers on the road.
Automobile Accident Lawyer for Peru
Bordering Brazil, Bolivia, Colombia, and Ecuador, Peru is an expansive country located in South America. With its vast Pacific Ocean shoreline, Peruvians are avid fisherman. The country is rich with resources and actively exports gold, copper, and zinc to major countries throughout the world. It is considered an emerging economy that has experienced significant growth over the years.
With a population reaching an estimated 32.51 million, Peru has a vast range of ethnicities with mestizo accounting for 59.5% of the population, 22.75% are Quechua, and 2.7% are Aymara. Peruvians that identify as mestizo have a combined ancestry of white and Amerindian. Although Spanish is the official language of Peru, there are approximately 150 indigenous languages spoken throughout the country.
Our bilingual personal injury lawyers represent car accident victims in many situations including;
Lawyer for Peruvian injured in a car crash in Miami
Speeding car accident at a Miami intersection injury lawyer
Accident victim injured by a texting driver in Miami
Miami personal injury attorney for family injured by a reckless driver
Peruvian pedestrian hit by a car while walking on the sidewalk
DUI automobile accident fatality lawyer in Miami
Driver running a stop sign car crash lawyer in Miami
Miami attorney for parking lot car crash injury
Lawyer for Peruvian injured in a wrong-way car crash
Victim injured in car accident caused by a negligent driver in Miami
Miami attorney for bicyclist hit in the bike lane by a passing car
Pedestrian injured by a car when waiting to cross the street in Miami
Distracted driver side-swipe car crash injury lawyer in Miami
Miami Car Crash Firm for Peruvians
After seeking medical attention, contacting a Miami automobile accident lawyer should be your next step. They will take the time to assess your case, estimate your potential settlement, file your claim, and negotiate with insurance companies. Personal injury attorneys that work with victims injured in car crashes know the law and what compensation you might be entitled to. Using a personal injury lawyer to represent your interests can help to ensure that you receive the maximum amount of compensation that you are owed.
Since 1963, the personal injury lawyers at Wolfson & Leon have represented victims of car accidents. We serve those injured in South Florida from our offices located in Miami, West Palm Beach, Fort Lauderdale, and Fort Myers. If you have questions or are wondering if you have a case, contact our bilingual personal injury attorneys today for your no-obligation, free consultation. To find out what rights you have as an accident victim, call us at 305-285-1115.