Miami Auto Accident Lawyer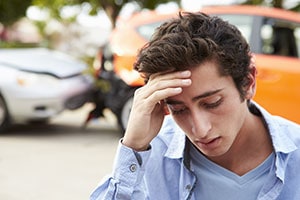 If you've got injured in a Miami auto accident, you need to talk to a Miami personal injury attorney as soon as possible. You may be entitled to damages compensation, but to maximize your chances to get what you deserve for your harms and losses, you may need the assistance of a professional.
Here at Wolfson & Leon, our bilingual Miami auto accident lawyers are at your service for free consultations at (305) 285-1115. It will serve you to learn what your options are at no cost. It doesn't bring an obligation to hire us for representation, but in case you do so, we won't ask for fees until we recover for you. We handle cases on a contingency basis, which means that we get paid only when we recover damages for you.
Financial Compensation for Personal Injuries Due to Miami Auto Accidents
There must be many questions you need to answer now. You may be wondering about:
Who is at fault for the accident?
Did I do anything wrong?
What to do after Miami auto accident?
Am I entitled to damages compensation?
Where can I get advice for the questions I have?
How to get compensated as soon as possible?
How to find the best Miami car accident lawyer?
In most accidents, you can figure out who was responsible for the accident yourself. But, if you are not sure, talking to an attorney will help you realize it. He will help you learn if you did anything wrong or it was the other driver.
Depending on who was at fault, you may be entitled to damages compensation. If the other person didn't follow the traffic safety rules and that led to the accident and your injuries, there is no doubt that you should be compensated for that. To increase your chances of getting the monetary recovery you deserve, again, contact a Miami car accident injury attorney. He or she will advise you to do the following right after the accident:
Ensure everyone is safe: you, the passenger in your car, the driver at fault, and the passengers in their car.
Call 911 and report the accident. This will help you gather valuable evidence later.
Don't leave the scene of the accident. It is a crime and makes you look as if you had something to run away from.
Make as many photos and videos as you can. The more angles, the better.
When the police arrive, cooperate with them, but don't answer questions you feel are self-incriminating.
Don't talk to insurance company representatives, nor accept any offers made by them without speaking to a Miami auto accident attorney.
Call a Miami car accident attorney for advice to guide you through the first few steps and possibly lead you all the way down to full financial recovery from your car accident.
Most personal injury claims can be submitted at latest four years after the accident. If you have lost a loved one in the accident, the deadline is set at two years. But you don't have to wait that long before getting a compensation. You'll have many expenses sooner than that, and if you want them covered by the liable person and their insurance company, you'll have to act as quick as possible.
You can try to settle with the insurance company, but keep in mind that they have negotiated with inexperienced negotiators many times before. They are trained to handle you. That's why you need to talk to an attorney.
Miami Auto Accident Lawyer
The bilingual Miami auto accident lawyers at Wolfson & Leon are available for free consultations right after the accident to help you start properly. You'll receive this advice at no cost and at no obligation to hire us. If you want us to represent you, we won't ask for any fees unless we recover damages for you. Reach us at (305) 285-1115.
We serve the entire Miami area, including Overtown, Wynwood, Little Havana, Hialeah, Coconut Grove, Brickell, Opa-Locka, Allapattah, and others.