Miami Auto Accident Injury Attorney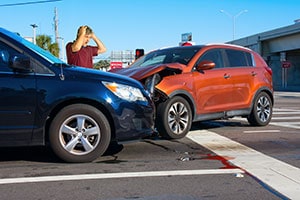 You must have witnessed an auto accident in Miami before, and you know how severe personal injuries it can cause. If you have been injured in one yourself, or a loved one sustained some injuries or lost their life, you can count on our bilingual Miami auto accident injury attorneys for help.
Here at Wolfson & Leon, we know how hard it is to be involved in an auto accident at no fault of yours. We are in this business since 1963, and by helping many people like you, we have learned that damages recovery is not what you want to think about when facing severe personal injuries.
However, sooner or later you'll have to take care of that. You'll have many expenses on your road to physical recovery, and someone must pay for that. If you don't want to cover these costs, then you need to talk to a Miami personal injury attorney as soon as you can. You can call us at Wolfson & Leon for help. We can take care of your legal recovery while you are trying to get your life back after the accident. We do that since 1963. Call us today for free consultations at (305) 285-1115. Explain to us your case, and we will present you with your options to the best of our knowledge for free of charge.
We don't ask for fees for the initial consultation. We handle cases on a contingency basis, so we don't charge fees until we recover damages for our clients.
Miami Auto Accidents and Injuries
Miami-Dade has over 50,000 car accidents annually. Up to 20,000 of them happen to cause personal injuries. Up to 300 of them cause deaths, which means that folks in Miami lose lives in car crashes almost daily. The deadliest road in the city is I-95, followed by the Dolphin Expressway and the SR 826.
When people get injured in auto accidents, they call an experienced Miami car accident attorney. When we are their lawyers of choice, we serve them as:
Left turn car accident lawyer in Miami
Miami rear-end car collision lawyer
Miami wrongful death claim due to car accident lawyer
Miami Uber driver car accidents lawyer
Sideswipe and merging car accident lawyer in Miami
Miami road rage car accidents lawyer
Injury lawyer for Miami rear-end car collisions with motorcyclist
Miami injury lawyer for car accidents involving Uber or Lyft drivers
Miami car crash lawyer with Lyft driver
Rollover car accident lawyer in Miami
Miami bridges car crash lawyer
Miami T-bone car accident lawyer
Drunk driving car accident injury lawyer in Miami
Head-on collisions injury lawyer in Miami
Car-pedestrian injury accident lawyer in Miami
These accidents often lead to serious and less serious injuries, such as:
Spinal injuries including disc injuries
Broken legs and arms
Broken ribs and chest injuries
Back injuries and fractures
Brain damage and head injuries
Scars and disfigurement
Knee injuries
Hip and leg injuries
Bruises and internal bleeding
Burns and scarring
Ankle injuries and fractures
Even if your injuries are not very serious, you should know that you have the right to compensation. If the negligence of another caused your injuries and damages, then that negligent driver should be responsible for the damagers that they caused. You may be compensated for the pain and the suffering you have suffered due to the accident. That's why you shouldn't hesitate to contact a Miami car accident attorney for assistance.
Miami Auto Accident Injury Attorney
If you or a loved one have been severely injured in a car accident in Miami, talking to our bilingual Miami auto accident injury attorneys will be a prudent step towards damages recovery. We offer you a free and no-risk consultation at (305) 285-1115. Let us present you with your options for free of charge. In case you decide to hire us, we won't ask you for fees until we recover monetary compensation for you.
We serve the Miami area and its neighborhoods such as Edgewater, Coconut Grove, Coral Way, Overtown, Miami Beach, Hialeah, Northeast Coconut Grove, Brickell, Wynwood, and others.