Miami Amazon Accident Lawyer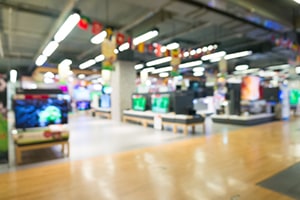 When ordering merchandise online from Amazon, you are saving time from shopping and utilizing the convenience of having someone else bring the product or products to you. With the abundance of consumers that use this service, they are putting more drivers on the road while they resume their daily lives. Having more drivers on the road can create more traffic and could increase the chance of an accident. The commuting of the Amazon drivers is not the only hazard, as he product delivery could pose potential hazards as well. People do not think an accident could happen during this process, but they can, and it is important to understand how to properly handle your claim.
If you are injured because of an Amazon delivery driver or an Amazon product, then you should call our Amazon injury attorneys at the Miami offices of Wolfson & Leon. Our Miami personal injury lawyers are available for free and confidential consultations wherever and whenever it is most convenient for you. Call us at (305) 285-1115 and let us answer your questions.
Amazon Delivery Accidents in Miami
Amazon is based in Seattle Washington. It is traded on NASDAQ as AMZN.
The company was founded on July 5, 1994 by Jeff Bezos. It is a cloud computing company and electronic commerce company. In fact, it is the 8th largest private employer in the USA with more than 341,000 employees.
One of the largest costs Amazon has is found in the costs associated with delivery. Over the years, Amazon used UPS, FedEx and DHL for most of the deliveries. But in recent years, Amazon has begun to lease ships, planes and trucks to control and ultimately reduce the expense of delivery.
In fact, Amazon has opened several subsidiaries that are directly concerned with the cost of delivery. One is Amazon Flex. Another is Amazon Logistics.
The Amazon Flex driver program began in Colorado and is expanding throughout the country. This program is designed to work in a similar manner as Uber or Lyft but with important distinctions. Ideally, an Amazon Flex driver would be an Uber or Lyft driver who wants to supplement their income by delivering packages for Amazon. Amazon claims Flex drivers can make anywhere from $18-25 per hour.
The difference between Amazon Flex and Uber or Lyft is that Amazon requires the Flex driver to carry their own insurance. If you or a loved one is injured in an accident with an Amazon Flex driver in Miami, the analysis of the potential responsibility and insurance coverages are most likely to be very complex. Your Amazon accident lawyer would have to investigate each potential insurance policy of the negligent driver which could include a personal auto policy; an Uber or Lyft policy; and possibly Amazon.
Amazon Logistics is another delivery option. These are the white vans you may see with the "Amazon" logo on the side. These vans are usually owned or leased by Amazon. The vans or trucks are operated and driven by Amazon employees. If you are injured by an Amazon van or truck, your Miami Amazon injury attorney will be able to pursue your case directly against Amazon.
Miami Personal Injury Lawyers Helping Amazon Injury Victims
Amazon is the largest internet-based retailer with $135.98 billion in revenue in 2016. But even a company that large and powerful is still subject to the same laws as the rest of us. But if you were injured do to some form of negligence by Amazon, then you have to be certain that the Amazon accident lawyers that you select will stand up to Amazon, Uber, Lyft or whatever company may be responsible for your injuries and damages.
At Wolfson & Leon, our Miami personal injury lawyers will fight any company or corporation that causes our clients pain. We will aggressively and professionally represent you and your family until you receive the justice that you deserve through settlement or jury trial. Call us today at (305) 285-1115 for your free consultation and let us get to work for you.