Miami Airbnb Injury Lawyer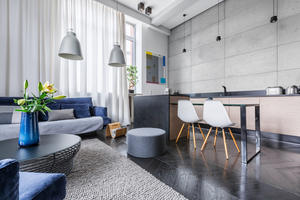 At Wolfson & Leon, our Miami Airbnb accident lawyers are here to help you. Just call us for a free consultation at (305) 285-1115 and we can help you find the answers that you need.
When making a trip to vacation in Miami, there are many lodging options to choose from. A hotel stay is your traditional choice, but Airbnb provides the ability to feel as if you're home away from home. This has many upsides for comfortability, but could pose several hazards as well. If you were injured at an Airbnb rental in Miami, then you really need to speak with the best Miami Airbnb accident attorney you can find. While it is possible to make a financial recovery for your medical expenses, lost wages and injuries following a serious Airbnb accident in Miami, it is complicated.
Airbnb in Miami
In Miami, Airbnb has made a serious impact in the lifestyle and economy of South Florida. In many ways, Airbnb is following the path of Uber. Both operate from apps and utilize the services of local independent contractors. As with Uber, Airbnb has had its detractors and enemies. Uber was a natural for the taxi and limousine industry. Airbnb is in direct conflict with the powerful hotel and resort industry in Miami and throughout South Florida.
To give you an idea of the scope of Airbnb's impact in Miami you need to look no further that the Airbnb tax payment to Miami-Dade County in May 2017. After Airbnb reached an agreement with Miami-Dade and Broward County in April, Airbnb made a tax payment for its 6800 hosts to Miami-Dade County in the amount of $522,000 for the month of May.
If you extrapolate that payment, then it is reasonable to assume that Airbnb will pay Miami-Dade County about $6 million per year. Broward County is expecting $1million per year from Airbnb. Based on the May payment, in Miami-Dade County Airbnb hosts made around $12 million dollars or $400,000 per day.
Miami Airbnb Accidents and Injuries
People come to Miami to enjoy the weather, the scenery and amenities. Years ago, that trip involved a rental car or taxi and reservations at a hotel. But times have changed. Now we see both visitors and locals using Uber or Lyft and setting up reservations on an app with Airbnb to stay at the house, condo or apartment of an Airbnb host.
While Airbnb and other housing sharing services such as HomeAway, Oasis or HomeEscape have exploded in Miami and throughout South Florida, every new industry comes with growing pains. Such is the case when it comes to legal responsibility for personal injuries or wrongful death.
The types of injuries that can happen at an Airbnb rental property include:
Slip and fall on oily or greasy floors
Trip and fall on poorly constructed floor or stairs
Broken tiles or pavers causing serious injury
Electrical fires and burns
Poor lighting resulting in trip and falls or slip and falls
Plumbing failures causing leaking water
Broken furniture or cabinets striking guests
Unsecured balconies resulting in serious injuries or death
Broken steps or stairs causing traumatic injuries
No matter what type of injury, you owe it to yourself and your family to determine if the host or Airbnb is responsible. That is why it is important to reach out to the Airbnb personal injury lawyers at Wolfson & Leon by calling (305) 285-1115 to find out what can be done following your Airbnb accident and injury.
Personal Injury Lawyer for Airbnb Accidents and Injuries in Miami
The Miami personal injury lawyers at Wolfson & Leon have represented personal injury clients for more than 50 years. Our attorneys know what to do and they are ready to help you and your loved ones following an injury of any type at an Airbnb rental property in Miami.
Our Miami Airbnb Injury Attorneys serve the communities where Airbnb hosts rent their homes including Miami, Bal Harbour, Surfside, Upper East Side, Key West, Wynwood, Key Largo, Design District, Doral, South Beach, Key Biscayne, Tavernier, Islamorada, Coral Gables and Coconut Grove.