Lehigh Acres Motorcycle Accident Lawyer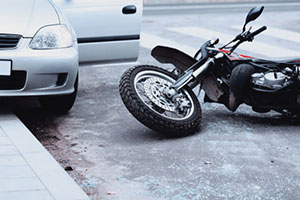 Have you been injured or lost a loved one in a motorcycle accident in Lehigh Acres? There could be a lot of legal issues involved in your life from that point forward, so calling our Lehigh Acres motorcycle accident lawyers at the Wolfson Law Firm could be your best first step.
You may be entitled to damages recovery for your harms and losses. In the past, we have helped our clients with their pursuit of lost earnings, medical bills, medication and medical devices bills, funeral costs, loss of financial support, emotional pain, stress, pain and suffering depending on the circumstances of the motorcycle accident and the injuries sustained.
Insurance companies often count that you are not informed about what to do, so they may offer you some kind of nominal compensation, but it's rarely sufficient. We advise everyone to wait and call the best Fort Myers motorcycle lawyer you can find to advise you if that offer of settlement is fair.
We invite you to call us at no cost, no risk and no obligation. If you choose us to represent you, we will take care of all the legal issues so you can focus solely on physical and emotional recovery. We won't ask for fees until we recover for you. We are available for free consultations at 239-777-9954 and at our offices located at 3049 Cleveland Ave #140, Fort Myers, FL 33901, or anywhere else where it suits you. The most important thing is that you get the information that you need to make the decisions you have to following a motorcycle accident in Lehigh Acres.
Lehigh Acres Motorcycle Accidents
Lehigh Acres lays on the eastern outskirts of Fort Myers and serves as a suburb for the city. It is located on a 30 minutes' drive from the city, next to the neighborhoods of Buckingham, Cape Coral, Olga, Alva, and Gateway. It is developing at an extraordinary pace, so now more people live there than in Fort Myers.
At the moment, Lehigh Acres is estimated at around 100,000 residents. They mostly use the State Road 82 to commute to the city, but that's not the only road where motorcycle accidents happen in Lehigh Acres. These motorcycle crashes happen everywhere, as in any other place in Florida. The Sunshine State roads and streets lose over 400 motorcycle riders annually, which means that on average, more than one motorcycle rider dies every day. Unfortunately, Lehigh Acres is not an exception to the trend.
Our Fort Myers accident attorneys remind us that the most common motorcycle accidents in Lehigh Acres include, but are not limited to:
Lehigh Acres rear-end collisions With motorcyclists
Drunk driving motorcycle accidents in Lehigh Acres
Lehigh Acres T-bone motorcycle accidents
Head-on collisions with motorcycles in Lehigh Acres
Left turn motorcycle accidents in Lehigh Acres
Lehigh Acres wrongful death claims due to Motorcycle Accidents
Lehigh Acres road rage motorcycle accidents
Lehigh Acres motorcycle accidents with Uber Drivers
Motorcycle pedestrian injury accidents in Lehigh Acres
Lehigh Acres motorcycle accidents involving Uber or Lyft drivers
Sideswipe and merging motorcycle accidents in Lehigh Acres
Lehigh Acres motorcycle accidents with Lyft drivers
Rollover motorcycle accidents in Lehigh Acres
Lehigh Acres bridge accidents with motorcycle riders
Lehigh Acres Motorcycle Accident Lawyers
Recovering for damages due to motorcycle accidents is never an easy task. We have been through these processes with our clients since 1963 and we've realized that no one willingly wants to pay for damages when it comes to motorcycle accidents and injuries. You have the burden of proof and you should have the best personal injury team by your side when you go after the compensation that you deserve.
Our bilingual Fort Myers motorcycle accidents lawyers at the Wolfson Law Firm are here to help you. Call us now for your free consultation at 239-777-9954. You'll pay nothing unless we recover for you.