Le Jeune Road Car Accident Lawyers in Miami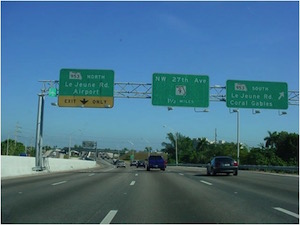 The Le Jeune Road Car Accident Attorneys at Wolfson & Leon have helped car accident injury victims settle and resolve their cases in South Florida for over 55 years. If you were in a car accident on Le Jeune Road in Miami, they can help you right now. Just call (305) 285-1115 for a free consultation.
Le Jeune Road in Miami-Dade County
There are few roads in Miami that cover the area that Le Jeune Road does. Starting in the south, it begins in Coral Gables and travels to Miami, then Miami Springs, to Hialeah and further to Opa-Locka. Le Jeune Road is believed to be named for a gentleman from Belgium named Charles Le Jeune who purchased 140 acres of land that consisted mostly of coral rock in Miami around 1900. He used dynamite on the coral rock to create fertile land and eventually planted citrus groves. Interestingly, Charles Le Jeune sold those groves for 1.7 million dollars in 1914 to George Merrick who developed Coral Gables, Florida.
Le Jeune Road in its present form intersects with several major roads including US 1 (also known as Dixie Highway); SR 836 (known as the Dolphin Expressway) and Okeechobee Road. It also operates as the main eastside thoroughfare of Miami International Airport (MIA). Lejeune Road is also known as West 42 Avenue in Miami; East 8th Avenue in Hialeah; and as SR 953. It is approximately 16.3 miles long.
As local residents and tourists can attest, Le Jeune is a very busy and congested road. Few traffic reports in the media neglect to mention the traffic conditions on "Le Jeune". Buses, cars, trucks, motorcycles as well as Uber and Lyft drivers and passengers keep the road busy 24 hours a day 7 days a week. As everyone knows, where there is traffic there are car accidents.
Le Jeune Road Car Accident Attorneys in Miami
Car accidents can happen in rush hour, during the day or anytime at night. It is just of question of when it happens to you and what you should do after a car accident in Miami. Our Le Jeune Car Accident Lawyers can help but only if you call them at (305) 285-1115 for a free consultation.
You are not required to hire a Miami personal injury lawyer to help you after an accident. You can try to do it by yourself. But understand this – the other driver won't help you and neither will that driver's insurance company. At the very moment of impact you are in an adversarial situation and you should understand this before deciding to represent yourself.
Many insurance companies have a method of operation that they will never admit. It is "Deny, Delay, Don't Pay" all claims. Different insurance companies apply this motto to different degrees but none of them are giving money away. If you have medical bills you will need to prove that those bills are reasonable in the amount; necessary for the treatment of your car accident injury on Le Jeune Road; and that the injury itself is related to the car accident. You will need to process your medical bills through your own PIP (Personal Injury Protection) before trying to get the other driver's insurance to pay anything.
The same thing applies to lost wages and loss of earning capacity. If you want it, then you need to prove it. But you may need to process your claim through your PIP insurance first.
To recover anything you will need to prove that the other driver broke a safety rule and caused you harms and losses. Under Florida law, each driver has a duty to exercise reasonable care in the operation of their car. If they breach (or break) this duty then they are responsible for the injuries and damages caused by their negligence.
But there are hurdles to making a full recovery. If you hope to recover for your pain and suffering you will likely need to prove that you have a permanent and significant scar or a permanent injury within a reasonable degree of medical probability by a specific burden of proof. In the case of most car accidents on Le Jeune Road your burden will be "greater weight of the evidence" meaning more right than wrong. Again, our Le Jeune Road Car Accident Attorneys deal with proving cases and the burden of proof each and every day.
If you have a minor impact soft tissue claim, the insurance companies have a list of defenses and strategies to pay you as little as possible. Our Le Jeune Road Car Accident Attorneys in Miami deal with these cases and those insurance companies on a daily basis. We negotiate, litigate and when necessary go to trial against negligent drivers and their insurance companies. Sometimes it takes a jury to tell the insurance company to do the right thing.
If you want to handle the aftermath of your car accident on Le Jeune Road you are free to do so. But you should at least inform yourself before trying to represent yourself. If you want our Le Jeune Car Accident Lawyers in Miami to represent you, then just call us at (305) 285-1115 for a free consultation today.
Le Jeune Road Serious Injury Lawyers in Miami
Our Le Jeune Road Serious Injury Accident Attorneys have handled personal injury accidents involving:
Trucks such as box trucks, delivery trucks and 18 wheelers
Pedestrians in street crosswalks or exiting cars
Limousines, Taxis and car ride services
Buses that are city run, privately operated or trolleys
Automobiles, smart cars, SUV, Humvees, pick-up trucks
Motorcycles such as Ducati, BMW, Harley Davidson, Yamaha and Suzuki
Jonah Wolfson of Wolfson & Leon is a former Miami Beach City Commissioner. He served his community for 8 years while growing his personal injury practice in Miami. Jonah has now practiced law for more than 15 years and exclusively represents personal injury victims who were involved in accidents involving pedestrians, bicycles, cars, trucks, motorcycles, Uber or Lyft accidents, uninsured and underinsured drivers and the families of those folks who lost their life in wrongful death cases.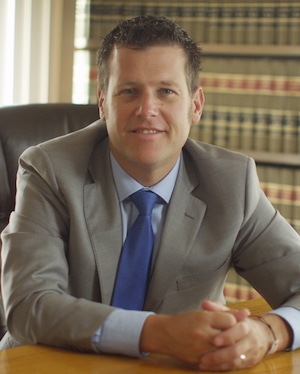 Over the years as a Miami Personal Injury Lawyer, Jonah's clients appreciated the fact that he is fluent in English and Spanish. Jonah Wolfson is a bilingual personal injury attorney in Miami and he is available to speak with you in English or Spanish anytime. You can see him speak in English and en Espanol in our media section. His team is also bilingual and they are always ready to help you. Just call (305) 285-1115 for a free consultation in Miami, Miami Beach, Coral Gables, Hialeah or wherever you need him.
If you were injured in a Le Jeune Car Accident in Miami and you're not sure if you have a case, then you should call Le Jeune Road Serious Injury Attorneys at Wolfson & Leon. Our Miami personal injury lawyers can help you if you were injured in a car accident or pedestrian accident on Le Jeune Road, 836, SW 8th Street, Dixie Highway or anywhere in South Florida.
The Le Jeune Road Car Accident Injury Lawyers at Wolfson & Leon have proudly help individuals injured at the Miami International Airport, and on South Beach, North Miami Beach, Fontainebleau, Miami Gardens, Allapattah, The Roads, Tamiami, Little Havana, Flagami, Coral Gables and many other communities throughout South Florida. Call us today for a free consultation at (305) 285-1115.
---
CALL NOW TO SPEAK TO A LEGAL PROFESSIONAL (305) 285-1115
or click here to submit your personal injury questions.