Key Biscayne Uber Car Accident Lawyer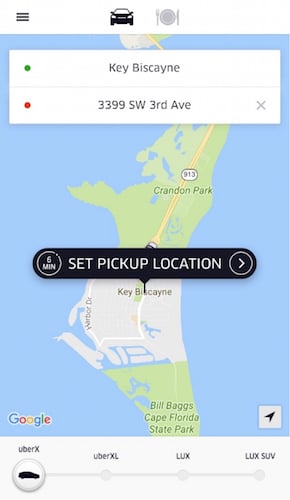 In the unlikely event that you are injured in a Key Biscayne Uber car accident, you owe it to yourself to consult with a Miami Uber accident attorney. There is no reason to be a silent victim. You may be entitled to recover for your rehabilitation expenses, medical bills, future medical care, lost earnings both in the past and in the future as well as your pain and suffering. But no one is going to give you money voluntarily. You have to prove your case and prove your damages. That is where a Miami Uber accident lawyer can help you.
Since 1963, the Miami car accident lawyers at Wolfson & Leon have guided, counseled and represented South Florida injury victims. Our personal injury legal team knows how to help and all you have to do is call us at (305) 285-1115. We offer free and confidential consultations either at our office located at 3399 SW. 3rd Avenue in Miami or at any location that is convenient for you.
If you were hurt in a Key Biscayne Uber car accident our offices are located minutes away. Whether you call us or not, make sure that you get the answers you need and demand that the responsible party be held accountable. Not only does this help you and your family, but it might prevent someone in the future from being injured by that same defendant simply because you help them accountable.
Key Biscayne Uber Injury Accident
Over the years, our Miami car accident lawyers have handled a number of cases involving Key Biscayne such as:
Key Biscayne residents injured in car accidents
Key Biscayne bicyclists injured in automobile accidents
Visitors to Key Biscayne who were injured in car accidents
Tourists visiting Key Biscayne and who were injured in Uber car accidents
Miami residents visiting Key Biscayne injured in Uber car accidents
Motorcyclists injured or killed on Key Biscayne car accidents and crashes
Key Biscayne motorcyclists killed or injured in Uber accidents
Key Biscayne truck accidents causing serious injuries
Pedestrians and joggers injured or killed in Key Biscayne Uber accidents
Uber drivers injured in Key Biscayne car accidents
Uber passengers hurt in Key Biscayne automobile accidents
Lyft drivers and passengers injured in Key Biscayne car accidents
Any type of car accident requires a proper investigation into the specific facts of each accident to determine liability, accountability and responsibility. If you were involved in a Key Biscayne Uber car accident and you were injured then there are additional and complex issues which need to be addressed. You would be best served by doing your homework and hiring the best Key Biscayne Uber accident lawyer that you can find.
Making a successful claim for personal injuries is never easy. In most cases, you will need to hire a lawyer. Our suggestion is that you make sure that you are comfortable with your choice of the attorney who will represent you following your Key Biscayne Uber car accident.
Miami Car Accident Lawyers Helping Key Biscayne Uber Accident Victims
At Wolfson & Leon, our Miami car accident attorneys aggressively represent our clients to help them achieve a full, fair, and complete resolution of their case. If you were injured in a Key Biscayne Uber accident, we can help you achieve the same thing. We offer full legal representation for personal injury and wrongful death resulting from any type of accident on Key Biscayne including Uber car accidents.
We represent clients for personal injury claims on a contingent fee basis consistent with Florida law and Florida Bar Rules. What that means is that you do not owe any attorney fees until and unless we make a financial recovery for you. In certain types of cases, we are able to force an insurance company to pay our fees so that you can keep all of the money recovered less any costs. If you would like further information on those types of cases just give us a call at (305) 285-1115 and we will be happy to explain it in further detail.
Our Miami personal injury lawyers are proud to offer their services to Key Biscayne residents and visitors as well as all of South Florida including Coral Gables, Virginia Key, Miami Beach, Pinecrest, South Miami, Coconut Grove, Miami Shores, Aventura, North Miami Beach, Hialeah, Kendall, Homestead, Doral, Weston, Hollywood, Miramar, Pembroke Pines and Miami Lakes.