Key Biscayne Motorcycle Injury Lawyer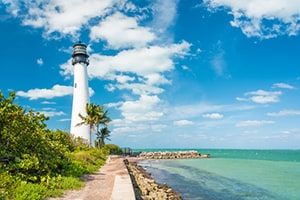 Common sense has shown us all that the assistance of a Miami injury attorney can be crucial right after the accident, as the first few steps often determine the outcome of the damage recovery procedures. To help you with that call us at (305) 285-1115 for free and no-obligation consultations. We will answer all your questions, let you know about your chances and will work with you to help you get the compensation that you deserve.
Riding a motorcycle can be fun and exciting, especially riding in an area with beautiful views such as Key Biscayne. This may be an island, but it still part of Miami and receives plenty of traffic. With the heavy traffic of South Florida increases the inherent risk that is associated with riding a motorcycle. Even in Key Biscayne, accidents still occur often and can result serious injuries.
If you were injured in a Key Biscayne motorcycle accident, call our Key Biscayne motorcycle injury lawyers for help. We have helped good folks injured in Key Biscayne in many types of accidents, including motorcycle accidents for over five decades. We represent motorcycle drivers, car drivers, pedestrians hit by a motorcycle, and others who have been injured in an accident with involving a motorcycle.
Key Biscayne
Key Biscayne is an island-town located east of Miami and south of Miami Beach. It is connected with Virginia Key and Miami by the 6-mile long Rickenbacker Causeway. On the north, it borders with Crandon Park, on the south with Bill Baggs Cape Florida State Park, on the east with the Atlantic Ocean, and on the west with the Biscayne Bay.
It is a home of over 12,000 residents. It is a very nice area to live in, so there are many famous people who have owned homes and spent parts of their lives there, including former US President Richard Nixon, Colombian pop star Juanes, American pop star Cher, author and entrepreneur Tim Ferriss, actors Brad Pitt and Andy Garcia, race driver Juan Pablo Montoya, and many others. They have been surely attracted by the tropical paradise vibe of Key Biscayne.
The town is densely populated, and the locals don't like it. Many tourists visit Key Biscayne every year, which caused a construction boom in the past. That made the local argue against construction work in the town. In 2007, they voted for an amendment of the town laws that require voters to approve any land use in future. Now, the government is compelled to ask Key Biscayne locals before taking any actions regarding land use.
Key Biscayne Motorcycle Accident
The most common motorcycle accidents requiring legal representation on Key Biscayne may include:
Lawyer for Key Biscayne Miami Motorcycle Pedestrian Injury Accidents
Attorney for Drunk Driving Motorcycle Accidents in Key Biscayne and Miami
Lawyer for Sideswipe and Merging Motorcycle Accidents in Key Biscayne Miami
Attorney for Wrongful Death Claims Due to Motorcycle Accidents in Key Biscayne
Attorney for Rear-end Collisions in Key Biscayne With Motorcyclists
Lawyer for Left Turn Motorcycle Accidents in Key Biscayne
Key Biscayne Miami T-bone Motorcycle Accident Lawyer
Attorney for Rollover Motorcycle Accidents in Key Biscayne
Lawyer for Key Biscayne Motorcycle Accidents with Lyft Drivers
Attorney for Motorcycle Accidents with Uber Drivers in Key Biscayne
Lawyer for Motorcycle Accidents Involving Uber or Lyft Drivers in Key Biscayne and Miami
Attorney for Road Rage Motorcycle Accidents in Key Biscayne
Lawyer for Head-on Collisions with Motorcycles in Key Biscayne
Key Biscayne Motorcycle Injury Lawyers
No matter how you were injured, suffering a personal injury in a motorcycle accident in Key Biscayne may provide you with the right to claim damages from the person who caused the accident. And you should claim recovery for money that you deserve. Don't accept settlements offered by insurance companies before consulting a top Miami personal injury attorney to help you determine the actual compensation they should pay.
We are in this business since 1963 and if you want to entrust us with your case, call (305) 285-1115 for free and confidential consultations with our Key Biscayne motorcycle injury lawyers at Wolfson & Leon. You won't pay us fees unless we recover for you.