I-75 Accident Lawyer in Lee County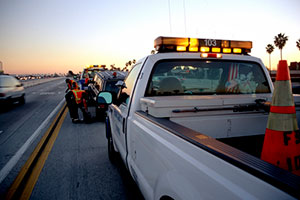 If you are injured in an accident on the I-75 in Lee County, you are not alone. You are not the first one to suffer injuries there, and you're not the last either. You may be entitled to compensation for your injuries, but to determine that for sure call our Lee County I-75 accidents lawyers at the Wolfson Law Firm in Fort Myers for help. Our consultations are free. You can reach us at 239-777-9954.
Interstate 75 Highway (I-75)
The Interstate 75 Highway starts from Miami, Florida, and ends up north in the State of Michigan. From Miami, it goes west to the Lee County, where it reaches the city of Fort Myers before proceeding north to Sarasota and the Tampa Bay area and leaving Florida for the State of Georgia.
Florida highways are infamous for their high fatality rates, and the I-75 is not an exception. It is among the deadliest highways in the country with over 600 deaths annually. The rush hour is the riskiest period for crash, as the traffic congestion peaks at that time. However, with so many reckless drivers on the road, it doesn't matter if it was the rush hour or not. The I-75 is not the safest road to commute, so you can be a victim of an accident at any time.
I-75 Accidents in Lee County
The most common accidents on the I-75 and the most likely to injure you include:
Rear-end car accidents and injuries on I-75 in Lee County
Lee County I-75 sideswipe and merging Fort Myers accidents
Lee County I-75 head-on collisions in Fort Myers
T-bone car accidents and injuries on I-75 in Lee County
Lee County I-75 road rage car accidents
Truck accidents on I-75 in Lee County
Lee County I-75 distracted driving car accidents
Car accidents with motorcycles in Fort Myers on I-75 in Lee County
Construction zone car crashes on I-75 in Lee County
Truck accidents with cyclists on I-75 in Lee County
Fort Myers car accidents with pedestrians on I-75 in Lee County
Car accidents with cyclists in Fort Myers on I-75 in Lee County
Tamiami Trail car accidents with Uber and Lyft drivers
Lane change car accidents in Fort Myers on I-75 in Lee County
I-75 Accident Lawyers in Lee County
Victims of I-75 accidents may be approached by insurance companies with compensation. We advise you to refrain from accepting their offer before speaking to a lawyer because it's likely that it is not full and fair value for your damages.
Here at the Wolfson Law Firm, our bilingual I-75 accident attorneys in Lee County approach each case very carefully. We are aware that the burden of proof is on our shoulders; hence we work with witnesses, your physicians, and other people who can help us build a compelling case. Once we do that, we make a settlement proposal for the insurance company and give them reasonable time to respond. We know that they often try to delay it, thinking they will never pay, but we make it clear from the start that we are going to trial if they don't settle for fair compensation.
Some lawyers avoid going to trial, and insurance companies take advantage of it. However, we are not those lawyers, and we stand with our clients until the case is resolved or tried before a jury. We try to resolve the case fairly for our clients as quickly as possible. But, we never sacrifice or discount the compensation for resolving the case. As always you, the client, is in charge and oversee all final decisions.
We handle cases on a contingency basis, so you pay nothing until we recover for you. The Wolfson Law Firm is located at The Summerlin Center,15050 Elderberry Lane, Suite 4-4, Fort Myers, FL 33907. Call us now for free consultations at 239-777-9954.
The Fort Myers car accident lawyers at the Wolfson Law Firm proudly offer personal injury legal representation to the communities of Southwest Florida including but limited to Lehigh Acres, Naples, Everglades City, Pineland, Marco Island, Boca Grande, Fort Myers Beach, Bokeelia, Golden Gate, Lely Resort, Bonita Springs, Goodland, Immokalee, Chokoloskee, Island Walk, Lely, Vineyards, Sanibel, Naples Manor, Plantation Island, Captiva, Alva, North Naples, Orangetree, Pelican Bay, Naples Park, Ochopee, Pine Ridge, Verona Walk, Cape Coral, Saint James City, Ave Maria, Fort Myers, East Naples, North Fort Myers and Estero.