Fort Myers Automobile Crash Lawyer for Lehigh Acres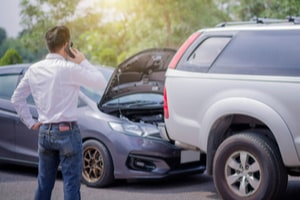 Traveling in high traffic areas can influence the way that we operate our cars. Impatient drivers may speed up to dart around slower moving vehicles, switch lanes erratically, or stop suddenly as traffic comes to a halt. Swerving to avoid traffic and making quick changes in speed can result in cars being slammed into, rear-ended, or side swiped. When traveling at a high speed, this can result in serious injuries to all parties involved in a crash.
Victims of these accidents often find themselves injured and unable to work. Their medical bills start to pile up and they may not have the money to pay for them. People who have been injured in a car accident as the result of someone else's negligence or reckless behavior are already dealing with the emotional stress and physical pain of being in an accident – they shouldn't be penalized financially as well. If you were hurt in a car accident that was caused by the negligence of the other driver, you should speak with a Fort Myers automobile accident lawyer. You may be able to recover lost wages and receive compensation to pay for medical bills and continuing treatment as you heal from your injuries. To find out what options may be available to you or if you just have questions, contact the Wolfson Law Firm. We can discuss your case and answer your initial questions at no charge to you. Schedule your free consultation today by calling (239) 777-9954.
Common Car Accident Injuries
If you've been involved in a car accident, it is a good idea to get checked out by a doctor, even if you feel ok. The sudden jolt that happens when a vehicle hits, or gets hit by, another vehicle or object causes our bodies to move in ways that may result in injuries to our neck, back, or head.
Some of the most common minor injuries from a car crash include:
Scrapes, cuts, and lacerations
Bruises and burns
Sprains
Strained muscles
Serious injuries may include:
Broken bones
Neck and back injuries
Damage to internal organs
Head trauma
Lehigh Acres Automobile Accident Law Firm
Lehigh Acres has 116,849 residents living in the city. It is racially diverse with 39.3% of its population being white, 37.8% Hispanic, and 19.5% African American. Its population is relatively young as the median age of Lehigh Acres residents is 33.6 years old. The median household income is $44,649. The poverty rate is 21.1%, which is higher than the national average of 13.4%. Women between the ages of 25 and 44 make up the largest percentage of Lehigh Acres residents living below the poverty line. The most common industries that employ residents of Lehigh Acres includes office and administration, sales, and construction.
Fort Myers Automobile Accident Attorney in Lehigh Acres
We represent Lehigh Acres residents who have been injured in automobile accidents. The Wolfson Law Firm defends accident victims in many ways including:
Lehigh Acres automobile accident injury attorney
Lawyer for injury sustained from a car running a red light in Lehigh Acres
Injured bicycle rider hit by a vehicle in Lehigh Acres
Attorney for large truck crash causing injury in Lehigh Acres
Defective car part causing injury in a car accident in Lehigh Acres
Fort Myers lawyer for bicyclist injured by automobile backing out
Lehigh Acres automobile defect causing an automobile crash injury lawyer
Fort Myers failure to stop at a red light automobile crash injury attorney
Intoxicated driver automobile accident lawyer in Lehigh Acres
Wrongful death automobile crash accident lawyer in Lehigh Acres
Head-on collision automobile crash injury attorney in Lehigh Acres
Texting automobile accident injury Lehigh Acres lawyer
Attorney for hit and run automobile accident injury in Lehigh Acres
Motorcycle accident injury law firm in Fort Myers
Sidewalk automobile crash pedestrian injury Lehigh Acres lawyer
Large commercial truck injury accident attorney in Lehigh Acres
Lawyer for pedestrian injured in crosswalk automobile crash in Fort Myers
Lehigh Acres high speed highway automobile chase resulting in serious injury lawyer
Parking lot automobile accident injury lawyer in Lehigh Acres
Fort Myers Car Crash Injury Law Firm for Lehigh Acres
Since 1963, the Fort Myers personal injury attorneys at the Wolfson Law Firm have helped car accident victims to recover the compensation they need to recover from their injuries. We work with insurance companies, legal teams, and in the courts to settle your claim in your favor.
The Wolfson Law Firm proudly represents the residents of Lehigh Acres and the surrounding communities of Cape Coral, Fort Myers, Bonita Springs, and Estero. With offices located in Fort Myers, West Palm Beach, Fort Lauderdale, and Miami, we defend the rights of car accident victims throughout South Florida. If you have been injured in a car accident, call us at (239) 777-9954 for a free consultation.