Fort Lauderdale Car Crash Lawyer for Hallandale Beach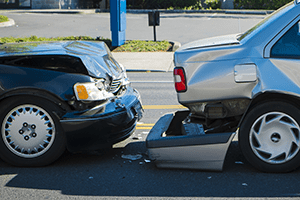 Intersections are one of the most common places for a car crash to occur. A driver that runs a red light can hit another car as it enters the intersection. A car that makes a left-hand turn across a busy intersection has an increased chance of being hit if oncoming traffic is going too fast or if the driver judges their speed incorrectly. Drivers that ignore or don't see stop signs at four-way intersections can hit other cars as they take their turn.
Getting into an accident while travelling through an intersection can result in serious injury. If a car is speeding when it hits another car, the impact of the crash can be significant. Cars that are hit on their side or front can cause serious injuries to the driver and passengers inside. Common injuries include scrapes and cuts, sprains, broken bones, head trauma, and injury to the neck or back. Our Fort Lauderdale personal injury attorneys can review your case and answer your questions. They will defend your rights against insurance companies and their legal teams. For a free initial consultation, call (954) 289-5954 today.
Hallandale Beach Car Crash Law Firm
There are 39,285 people living in Hallandale Beach. The city is racially diverse as 42.4% of the population is Caucasian, 35.5% are Hispanic, and 18.8% are African American. The median household income is $36,072 across approximately 17,800 households in Hallandale Beach. The poverty level in the city is 20.1%, with 13.2% of the households in Hallandale Beach making less than $10,000 per year. The median property value is $174,400 and the homeownership rate is 51.7%.
People who live in Hallandale Beach typically work in retail, hotels or food service, and health care. Their average commute time to work is 27.8 minutes. Households in Hallandale Beach own an average of one car, which is less than the national average of two cars.
Hallandale Beach Car Accident Attorney
Our Fort Lauderdale personal injury lawyers defend victims in Hallandale Beach who have been injured in car accidents. We represent clients involved in a myriad of accidents including;
Hallandale Beach car accident injury attorney
Wrong-way accident injury lawyer in Hallandale Beach
Attorney for pedestrian injured in crosswalk car crash in Hallandale Beach
High speed highway automobile accident resulting in serious injury lawyer in Hallandale Beach
Hallandale Beach attorney texting and driving injury car accident
Sidewalk car crash pedestrian injury Hallandale Beach lawyer
Large construction truck injury accident attorney in Hallandale Beach
Parking lot car accident injury lawyer in Hallandale Beach
Fort Lauderdale lawyer for car crash accident injury resulting from running a stop sign
Bicycle rider hit by a speeding car causing a serious injury attorney in Hallandale Beach
Wrongful death car crash accident lawyer in Hallandale Beach
Victim injured in a wrong-way car accident in Fort Lauderdale
Head-on collision car crash injury attorney in Hallandale Beach
Attorney for hit and run car accident injury in Hallandale Beach
Defective brakes causing an automobile accident with injuries in Fort Lauderdale
Distracted driver car accident injury Hallandale Beach lawyer
Failure to yield automobile crash injury attorney in Fort Lauderdale
Attorney for rear-end car crash injury in Hallandale Beach
Hallandale Beach attorney for automobile crash injury resulting from impaired driver
Attorney for large truck crash causing injury in Hallandale Beach
Fort Lauderdale lawyer for bicyclist injured in automobile crash
Hallandale Beach car defect causing a car crash injury lawyer
Fort Lauderdale failure to stop at a red light car crash injury attorney
Intoxicated driver car accident lawyer in Hallandale Beach
Hallandale Beach Automobile Crash Injury Law Firm
Victims of car accidents who have been seriously injured in a car accident should speak with a Fort Lauderdale car accident lawyer. Insurance companies often push for a quick settlement to limit the amount of money they need to pay. But if your injuries are severe, you may need additional compensation for future treatment, in-home care, and transportation costs.
A personal injury attorney will help you navigate through filing a case and will represent your interests with insurance companies. They will consider your current and future medical needs, as well as your ability to work, when negotiating on your behalf.
With four convenient offices located in Fort Lauderdale, Miami, West Palm Beach and Fort Myers, the Wolfson Law Firm represents residents throughout South Florida. If you have been injured in a car accident, don't wait. Call the Wolfson Law Firm at (954) 289-5954 today to speak with a personal injury attorney today.