Fort Lauderdale Car Crash Attorney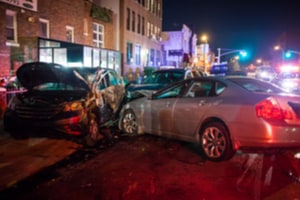 When you get in a car crash in Fort Lauderdale, there are several things that you need to consider. Documenting the crash is important, to be able to give an accurate description of events, no matter whose fault it was. That's why it's important to be know who to call on after you've sought out the appropriate medical care. The Fort Lauderdale car crash attorneys at Wolfson Law Firm are just such people to call. They've been practicing personal injury law since 1963 and have several decades of service not just with car crash and motor vehicle accident law, but with personal injury and wrongful death claims. You will want to hire the best Fort Lauderdale car crash lawyer you can find. At the Wolfson Law Firm, they welcome the opportunity to interview with you before you make your choice.
We know that it can be hard to even think after the series of events that someone who has just suffered a car accident goes through. It's a whirlwind of doctors, possible surgery, and medical bills that could very well make you rip your hair out. The Fort Lauderdale car crash attorneys of Wolfson Law Firm are of course here to help you deal with the financial and emotional pain. You can reach them anytime at (954) 289-5954 or meet with them at their Fort Lauderdale personal injury law firm offices in Downtown Fort Lauderdale. Just make sure you get the answers to your questions, so you know everything about your legal rights after your Fort Lauderdale automobile accident.
According to the Association for Safe International Road Travel, car crashes are one of the most predictable and deadliest public health epidemics in our time. Fort Lauderdale is no stranger to this epidemic, especially with the large variety of driving styles that find themselves on the road thanks to the high population of tourists that visit the city every year.
As the second biggest industry in the city, tourism has a huge impact upon Fort Lauderdale. With clear Florida weather for most of the year, the beaches of Fort Lauderdale are near constantly packed with tourists. Though the tourist demographic has changed over time from young college age kids to the wealthier crowd, the number of tourists that have come to the city has still steadily increased over the recent years. About 12 million tourists visit the city over the course of the year, which adds to the amount of traffic the streets of Fort Lauderdale see, especially during the peak vacation times of Spring and Summer. Proverbial "Snow Birds" also make their way down during the winter seasons when the weather becomes a bit more intense in the north, causing even more distress with older drivers bringing their own set of issues. Florida itself is an international hub for many Latino and Hispanic visitors, all of whom come from countries with many different rules and laws that can be confusing to learn for the first time. The unfortunate reality is that when it comes to driving, there are many factors that can cause a car crash, many of which are completely out of your control. While it is your best bet to be a defensive driver, some accidents in Fort Lauderdale cannot be avoided and can result in horrible and fatal injuries.
Your life and your health are important, and if a car crash happens, getting the best Fort Lauderdale car crash attorneys to help you is important if you hope to be compensated as you deserve for damages so you can return to your life. Each one of us deserves the right counsel and to know the correct path to take when it comes to legal action. The damage of a car, the loss of transportation, and even worse, the loss of a loved one as a direct result of a car crash requires a level of problem-solving your average person is likely not able to take on by themselves.
Whatever issues may arise after your Fort Lauderdale car crash, the Fort Lauderdale car crash attorneys at Wolfson Law firm can provide the counsel and advice that can make a difference. The personal injury team at the Wolfson Law Firm in Fort Lauderdale are standing by to help you. Call them today at (954) 289-5954 for your free consultation.