Florida Train Accident Attorney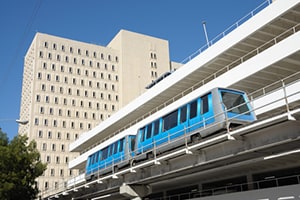 If you have the most unfortunate experience of sustaining an injury or losing a loved one in a Florida train accident, then you should reach out to the Florida train accident lawyers at Wolfson & Leon. We have helped injured victims and assisted the families of fatal accidents since 1963 and we are available to help you too. Call us for your free consultation at (305) 285-1115 and let's discuss your Florida train accident.
Florida Railroad Companies
Florida residents and tourists who want to enjoy an old-fashioned train ride are served by many government-owned and one private-owned train company. The privately-owned Brightline started operating in early 2018, while government-owned companies have been operating for decades. Brightline is transitioning to Virgin Trains USA at the present time.
Amtrak, the national railroad passenger corporation, have been operating all around America since 1971. Tri-Rail, managed by the South Florida Regional Transportation Authority connects Miami, Fort Lauderdale and West Palm Beach since 1989. Metrorail, operated by Miami-Dade Transit, have been serving Miami residents and tourists since 1984. Other rail lines include SunRail and Florida East Coast Railway.
Florida Train Accidents and Injuries
In the news, you see only the big train crashes that cause catastrophic consequences. These accidents can be very damaging to anyone involved, but even small accidents can be quite damaging as well. A train abruptly or quickly stopping may seem harmless to onlookers from the outside, but the riders may be thrown and injured on the inside. This could affect one person or many and only takes one moment of interrupted momentum. Our Florida train accident attorneys at Wolfson & Leon understand that there are many other causes of personal injuries involving Florida trains. These are the most common:
Derailments
Lack of adequate warnings at the railroad crossings. These lead to crashes between two trains, train and motor vehicle, or train and pedestrian.
Trip and fall accidents in trains. Train floors have to be clean and be a safe environment for passengers.
Slip and fall accidents in trains. The rail company may be liable for any injury caused by slippery train floors.
Unprotected high voltage cables in train stations that should be properly secured.
Slip and Fall accidents at train stations due to slippery or poorly cleaned floors.
Trip and fall accidents at train stations due to garbage, debris and other foreign objects negligently left on the ground.
Food poisoning and foreign objects in food served in trains or at train stations.
Stepping on and off train accidents at train stations.
Mechanical or electrical failures of the train.
Injury-causing human errors made by railroad company employees and vendors.
Responsibility of Train Companies
Train companies and railroad companies have an obligation to make sure the customers and guests of the railroad are reasonably safe. First, train operators must comply with the strict regulations of Department of Transportation and Federal Railroad Administration. Aside of these laws, premises liability and negligence laws may apply to the Florida railroad providers. They oblige them to provide reasonably maintain safety for travelers.
When they fail in doing so due to their own actions or sheer negligence, they are legally responsible for any harm and losses that occurred on any passenger's account. If the passenger proves that it was the case, the train operator may pay damages. Finally, one thing that you should know about rail operators' liability is that the common carriers, such as bus companies, train companies, and airlines can be liable under a higher standard of care. To make sure that your case qualifies for damages recovery, you should talk to a Florida train accident lawyer before pursuing any legal action. You need to make sure that you are on the right track first.
Florida Personal Injury Lawyers Helping Train Accident Victims
At Wolfson & Leon, our Florida train accident attorneys are available to provide you with complete personal injury legal representation following any injury or death involving a train in Florida. Call us toll-free at (305) 285-1115 for a free consultation.