Florida Keys Wrongful Death Lawyer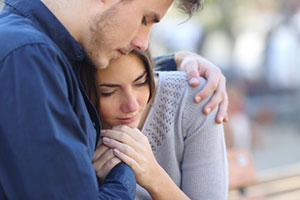 Visiting the Florida Keys is popular choice for people from Florida and even the rest of the country. It is the most southern part of the country on the East coast and offers beautiful tropical weather, clear oceans and plenty of relaxation. However, when enjoying a visit to the Florida Keys, an accident can still happen. There are many reasons and factors that would result in an accident, but the worst-case scenario could be realized where the accident is fatal.
If you lost a loved one in any type of tragic accident in the Florida Keys, then you undoubtedly want to speak with the best Florida Keys wrongful death lawyer you can find. You want to choose carefully. You are entrusting this attorney with your case and the memory of your loved one. You are entitled to be comfortable in your decision.
At Wolfson & Leon, our Florida Keys wrongful death attorneys have more than 75 years of experience collectively in assisting and representing the families and survivors in wrongful death cases. Since 1963, our lawyers have represented individuals and families impacted by serious and tragic car accidents in South Florida and the Florida Keys.
We offer free consultations which are also completely confidential. Just call us anytime at (305) 285-1115 and we will do our best to answer your questions and advise you of your options.
Wrongful Death Claims in the Florida Keys
One of the leading causes of wrongful death claims in the Florida Keys are vehicle/automobile accidents. These accidents may involve:
Pedestrian wrongful death car accident in the Florida Keys
Wrongful death arising out of a motorcycle accident in the Florida Keys
Truck accident in the Florida Keys causing fatalities
Florida Keys bicycle accident resulting in wrongful death claim
Florida Keys wrongful death claim involving Uber
Wrongful death claim in Florida Keys involving Lyft
Florida Keys car accident resulting in wrongful death
Florida Keys bus accidents involving fatality
DUI related car accidents causing fatalities
Wrongful death cases arising out of vehicle accidents are handled differently by law enforcement. In any type of accident happening on a roadway resulting in death will cause a traffic homicide report to be prepared and issued. Typically, the traffic homicide report will be very detailed. On some occasions, the traffic homicide investigator will make a mistake or reach an incorrect conclusion..
Our Florida Keys wrongful death attorneys will always confirm the findings and opinions of the traffic homicide investigator. Even if the investigator has a favorable opinion to our client, it doesn't mean that the insurance defense lawyer on the other side will try to pick apart the report or even "flip" the investigator to a change of opinion. In most wrongful death cases, our lawyers will seek out the opinion of a highly credentialed, and eminently qualified expert to support our client's position for the purposes of negotiation or trial.
Florida Keys Wrongful Death Attorneys and Personal Injury Lawyers
Losing a loved one or a family member is a devastating and life-altering event. When that loss is due to the negligence of others, it causes additional pain and creates burdens.
Our Florida Keys wrongful death lawyers at Wolfson & Leon understand the impact of such a loss on the family and loved ones. We also know that to finally achieve some measure of justice and compensation is often a long and tortious journey. We stand with our clients throughout the entire process – from the first call to settlement, verdict or appeal. Call us today at (305) 285-1115 and let us discuss your situation and outline what we can do.
The Florida Keys wrongful death lawyers at Wolfson & Leon serve the communities of the Florida Keys such as Layton, Key West, Islamorada, Tavernier, Key Largo, Marathon, Stock Island, North Key Largo, Homestead, Florida City, Duck Key, Upper Matecumbe Key, Long Pine Key, Sugarloaf, Key Colony Beach, Upper Keys, Bahia Honda, Middle Keys and the Lower Keys. They have offices in Miami, Fort Myers, West Palm Beach and Fort Lauderdale. Call them anytime – they are ready to help.