Florida Keys Motorcycle Accident Lawyer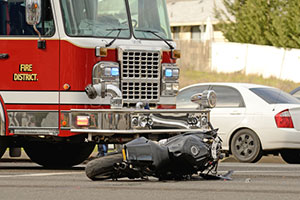 You will want to find the best Florida Keys motorcycle accident lawyer if you were seriously injured in a motorcycle accident anywhere in the Florida Keys. If you lost a loved one who was killed in a Florida Keys motorcycle accident, the you will want the best Florida Keys wrongful death attorney to represent you and your family.
At Wolfson & Leon, our Florida Keys personal injury lawyers have helped motorcycle accident victims in South Florida and the Florida Keys since 1963. Our bilingual attorneys have assisted injured victims and survivors get the justice they deserve.
All personal injury and wrongful death cases are handled on a contingency basis meaning there are no fees unless we make a recovery for you. All of our consultations are free and confidential. Call us today at (305) 285-1115 and let us answer your questions.
Motorcycle Accidents in the Florida Keys
The Florida Keys are a favorite for many motorcycle enthusiasts. The Overseas Highway provides a unique adventure unmatched in the United States. The drive through the Florida Keys is a long strip of highway that can provide some of the best views and even a surrounding view of ocean on both sides. Just like the Seven Mile Bridge allows motorcyclists a view that can be breathtaking with ocean views on your East and West side. Key West, Marathon, Islamorada, Key Largo and all of the Keys in between all market and cater to the motorcycle crowd. As with all things good, sometimes bad things happen.
Even on this long strip of highway that mostly contains minimal change in direction, can still have high risk for motorcycle riders. Being that it is mostly highway between each Key, drivers are usually traveling at higher speeds, which can cause severe accidents and ensuing injuries. Motorcycle accidents can be some of the worst accidents Florida Keys personal injury lawyers will ever see. Car accidents are one thing but in motorcycle accidents the motorcyclist (and passenger) are exposed to the impact and the environment. This is what makes motorcycle accidents so dangerous and potentially tragic.
At Wolfson & Leon, our Florida Keys motorcycle accident attorneys understand what it takes to fully investigate a motorcycle accident in the Keys. It usually includes motorcycle accident experts to assist in the liability/fault analysis. The types of Keys motorcycle accidents can include:
Motorcycle rear-ended in the Florid Keys
Left turn accident injuring motorcycle rider in the Florida Keys
Side swipe accident involving motorcycle in Florida Keys
Head on collision with motorcyclist in the Florida Keys
Truck accident with motorcycle in the Florida Keys
Improper passing accident involving motorcycle in the Florida Keys
Stop sign violation resulting in motorcycle injuries in the Keys
Right turn accidents with motorcycle in the Florida Keys
Uber car accident with motorcycle in the Florida Keys
Lyft car accident with motorcycle in the Florida Keys
Florida Keys Personal Injury Lawyers
The Florida Keys motorcycle accident lawyers at Wolfson & Leon have more than 75 years of collective experience helping those injured or killed in motorcycle accidents throughout Florida. We have seen the devastating effects of a motorcycle accident. We understand just how life altering a single motorcycle accident can be. Injuries sustained in these types of accidents can result in the inability to work, which then keeps you from earning a living and supporting yourself or your family. If you have questions about a motorcycle accident in the Florida Keys, we invite you to call us at (305) 285-1115 for your free consultation.
At Wolfson & Leon, our Florida Keys personal injury attorneys serve the great communities and towns of the Florida Keys including Layton, Key West, Bahia Honda, Stock Island, Key Largo, Sugarloaf Key, North Key Largo, Upper Matecumbe Key, Upper Keys, Flamingo, Middle Keys, Duck Key, Lower Keys, Big Pine Key, Key Colony Beach, Big Coppitt Key, Homestead, Plantation Key, Florida City, Tavernier and Islamorada.