Florida Crime Victim Lawyer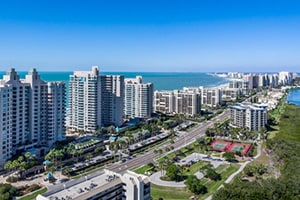 If you or your loved ones have suffered personal injuries as crime victims in Florida, it's probably the time to get professional legal help. After such a tragedy, you will want to speak to the best Florida crime victim compensation lawyer you can find.
Our Florida crime victim compensation attorneys at Wolfson & Leon have been helping injured victims from the Sunshine State get full, fair and complete compensation since 1963 and we are standing by to help you and your loved ones. You can reach us at (305) 285-1115 for your free consultation and we will never charge a fee unless we make a recovery for you.
Florida
The name Florida was derived from the Spanish expression for "Land of Flowers", it is better known as the Sunshine State due to the tropical climate and the plenty of sunny days throughout the whole year. It is a paradise destination for many tourists from all around the world. The abundance of long sandy beaches, ocean waves, and entertainment spots, make it very attractive for many people, but also for criminals.
Florida Crime Victims
Having in mind the most common crimes occurring in Florida on a regular basis, your injuries sustained due to a criminal accident in Florida may lead you to seek counsel from:
Battery victim compensation lawyer in Florida
Child molestation victim compensation attorney in Florida
Florida victim rights lawyer for victims of rape and other sexual assaults
Florida crime victim compensation attorney for robbery victims due to inadequate security
Florida crime victim attorney helping survivors of murder victims
Florida DUI crimes compensation lawyer
Florida crime victim lawyer for violent crimes resulting in injuries and/or death due to negligent security
Florida crime victim lawyer for victims of aggravated assault
Needless to say, these are just the most common criminal accidents leading to personal injuries that our Florida crime victim compensation attorneys can work on. If you've been injured in a different kind of crime, you shouldn't hesitate to call us. You and your family need clear answers as to what your legal rights are under the facts of your case.
Florida Crime Victim Compensation Options
Florida laws provide three ways to damages recovery. One of them requires waiting for the criminal proceedings to end. It can take some time, though, but recovering from someone whose guilt has been proven already should be easy. But in reality, criminals rarely pay the full value of the damages caused. If the offender is taken to court at all, or if he has no money to pay, however, could make you turn to other options.
One path leads to an investigation of the premises and actions of third parties in control of the area where the crime occurred. When the crime has taken place on premises under control of a third party, such as retail store, mall, bank, bars, clubs, hotels, resorts or other commercial properties, they could be liable under Florida premises liability laws. Business owners owe visitors a duty of reasonable care, which means they need to reasonably take all the necessary measures to prevent foreseeable crimes on their premises. When they breach the duty due to negligent security, they may be liable for the damages.
Finally, the Florida Bureau of Victim Compensation offers an opportunity to recover for economic losses. Make sure you have all the required documents to prove that you meet the legal requirements and hopefully you will be able to make a partial recovery of your out of pocket expenses.
Recovering for damages as a crime victim in Florida can be challenging task. Our Florida crime victim compensation attorneys at Wolfson & Leon have helped injured victims and survivors of wrongful death for more than five decades. We are standing by to help you right now. Call us for your free consultation to get the answers and information you need. We are ready to help you get the justice and compensation that you deserve.
We serve Florida crime victims and survivors throughout the state of Florida including Miami, West Palm Beach, Jacksonville, Tampa, Orlando, Melbourne, Naples, Gainesville, Tallahassee, Clearwater, Fort Myers, Naples, Cape Coral, Marco Island, St. Augustine, Daytona Beach, Key West, Key Largo, Venice, Miami Gardens, Miami Beach, South Beach, Wilton Manors, Sarasota, and Fort Lauderdale. Call us at (855) 982-2067 for your free consultation. You don't pay fees until we recover for you. Don't be a silent victim – call today!