Electric Scooter Accident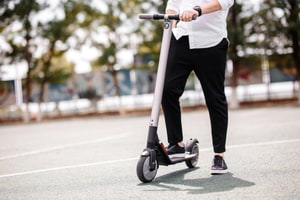 The electric scooter craze has spread across hundreds of cities in the U.S., and Florida certainly has not been spared. Electric scooters have become a cheap, fast, and fun way to get across Florida's cities and parkways.
The two largest companies, Bird and Lime, have invested millions in providing hundreds if not thousands of electric scooters across the country in the hopes of redefining micro travel. The idea is to provide a cheaper and more environmentally friendly mode of transportation. And so far, it has been extremely successful. The valuations for the two companies alone range between $2 to $3 billion.
However, while there are many benefits that come with electric scooters, there are many serious issues that come with using scooters. These risks affect everyone: those who ride the scooters, the pedestrians around them, and more people. Due to the number of injuries that have happened with these scooters, Florida personal injury lawyers have become well versed at handling electric scooter accidents.
In fact, emergency rooms across the country have seen an incredible rise in the number of severe injuries that range from sprained wrists, broken bones, serious lacerations, and serious head injuries. The issue has become so dire that a class-action lawsuit was filed in October 2018 in the Los Angeles Superior Court, claiming that the electronic scooter companies have been grossly negligent.
The complaint that was filed states that "while acting under the guise of the commendable goals of furthering personal freedom and mobility and protecting the environment, the defendants, and each of them, are endangering the health, safety and welfare of riders, pedestrians and the general public."
In response, the companies have been quick to state that the danger from electronic scooters is not as bad as what the complaint alleges. The San Francisco-based Lime stated that "[w]hile we don't comment on pending litigation, safety has always been at the very core of everything we do at Lime – as is our mission of reducing cars from city streets and making them safer and greener for pedestrians, bike and scooter rides alike." The spokesperson added that Lime "prides itself on taking proactive steps relating to safety wherever we have a presence."
Santa Monica-based Bird, stated "We believe that the climate crisis and our car dependency demand a transportation mode shift, and clean energy vehicles like e-scooters are already replacing millions of short car trips." The spokesperson added that "[t]here is no evidence that riding an e-scooter presents a greater level of danger to riders than riding a bike. Cars remain the greatest threat to commuters, killing over 40,000 people in the US yearly."
If you have been injured in Florida from either riding an electric scooter or from someone negligently riding an electric scooter, it is important that you call a lawyer! The reason for this is because the issues surrounding your electronic scooter case can be extremely complex.
Determining just who exactly is responsible for your injuries can be difficult. These electric scooters are rented with waivers which can open very serious questions for the ability to proceed with a lawsuit. Another issue that complicates matters is that some of the manufacturing companies are international. This fact adds a complex legal issue that normally cannot be handled alone.
Many people have also been reporting that several of the electronic scooters have been poorly made. This has made the scooter manufacturers take serious note in the rise of injuries. In fact, Lime recently had to recall several their scooters due to a risk of the scooters actually breaking apart. These mechanical and design flaws can be the issue that result in the injury, or they could not be. It takes an experienced lawyer to be able to determine the real issue.
Either way, it seems that the electronic scooter companies are trying to deny any sort of blame. For example, Lime recently denied being at fault for the mechanical and design failures. Instead, they pointed the finger at the parts' supplier.
Moreover, the electric scooter is more than happy to disclaim any sort of liability. For one, the put the risk of loss and injury in their User Agreements on the user. Any rider must always also promise to wear a helmet. It takes a skilled litigator to break through the automatic presumption that the riders waived away any risk.
As for insurance companies, they love to point the finger at one another. Put bluntly, they will do everything possible to keep from paying a cent. It will take a lawyer who knows their way around insurance companies to make someone pay.
While the risk of being injured on an electronic scooter is high, the ability to collect your fair compensation is difficult.
For example, if you get injured while riding an electric scooter, you need someone that can determine the cause of the accident. Was it a design flaw in the scooter? Was it the terrible conditions of the sidewalk? Or was it another person riding an electronic scooter? If the injury was due to a design flaw, was it the electronic scooter company's fault? Or was it the fault of the company's supplier? The complexities abound.
With electronic scooters, there can be an unlimited type of injuries. People have complained about tripping over negligently left scooters. Others, have suffered serious injuries, even died. Moreover, the scooters can be serious road hazards, and they can result in serious property damage.
Due to all these reasons, if you are injured while riding an electric scooter or by someone riding an electric scooter, you should immediately call a Florida electric scooter personal injury lawyer.
Florida Electronic Scooter Accident Attorney
At Wolfson & Leon, our Florida personal injury lawyers have defended the rights of injured victims since 1963. Our bilingual accident attorneys can help you as well. We have offices in Miami, Fort Myers, West Palm Beach and Fort Lauderdale and we serve anyone injured in Florida including but not limited to Miami Beach, Tampa, Naples, Sarasota, Gainesville, Tallahassee, Jacksonville, the Florida Keys and Daytona Beach. Call us today at (305) 285-1115 for your free consultation. We are here to help.