Dangerous Appliance Injuries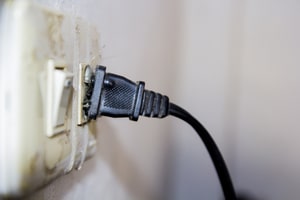 Household and everyday appliances are intended to make our lives easier. Microwave ovens allow us to cook food faster, ceiling fans help to keep our homes cooler, and food processors help to quickly cut up vegetables and fruit. Regular household appliances can pose a danger to us and our family due to their moving mechanical parts, need for electricity, and use of chemicals can cause hazardous situations.
In some cases, we can prevent accidents from occurring by supervising small children around household appliances, keeping boiling pots away from the edge of a stove, and not touching hot surfaces. Unusual wear and tear, defects, and electrical shorts can result in dangerous conditions leading to injury, even death.
Common Household Appliance Injuries
The use of household appliances is so common within our homes, it's hard to imagine that with all of the convenience that they bring, they can still hurt us. Some of the most common appliances that can cause injury include;
Toaster Ovens and Toasters: By their nature, toaster ovens and toasters involve putting food into a small slot within the appliance to cook it. Taking it out without burning yourself can be a challenge. The exterior of toaster ovens can become very hot, cause burns to those who brush by it unexpectedly. Using a metal fork, knife, or other object to remove the food item from a toaster can cause an electrical shock. However, even sticking these items into an unplugged toaster can damage the heating element, causing a shock when you plug it back into the wall.
Space Heaters: Space heaters can be particularly dangerous as many people don't realize the danger. 43% of household fires result from the use of space heaters. Placing them near flammable items, such as clothing, furniture, or bedding can cause fires. Space heaters can also give off an unhealthy dosage of carbon monoxide. Heaters that use gas or kerosene should never be used indoors as they give off dangerous emissions if not ventilated properly. Placing space heaters up high where they may fall or overloading electrical circuits may result in a fire. Children should never be left unattended around a space heater as they can cause serious burns.
Ceiling Fans: Although placing a fan on the ceiling appears to be infinitely safer than the box fan that your kids loved to stick their fingers into, they can still pose a danger. Ceiling fans that are not installed correctly, properly maintained, or have a defect may result in fan blades, or even the base, flying off while it is in motion. Small children may be injured by the blades of a fan if they are thrown up in the air or sitting on someone's shoulders.
Washers and Dryers: Doing your laundry in the comfort of your home is a considerable convenience for any family. As with any appliance that relies on water or heat and electricity to get its job done, there is a risk of injury. Washing machines that leak water can cause short-circuiting with the appliance, potentially leading to a fire. Failing to keep the lint trap clean can result in a fire. Dryers with doors that open outward can result in children climbing in and becoming trapped.
Microwave Ovens: The extreme convenience of cooking food quickly has resulted in almost every household having a microwave oven. Metal containers and foil can cause a fire. In some cases, homeowners have reported microwaves turning on while they were not home or not in use.
Ovens and Stoves: With the extreme heat, it's understandable that the use of stoves or ovens can lead to injury. A boiling pot of water too close to the edge can be pulled down by a small child, scalding them. Touching the hot surface of the stove or burning yourself taking out dinner from the oven can easily occur. The high heat or using the self-cleaning oven option can result in fires if left unattended.
In addition to the above, other appliances can cause injury. Those that use a blade, such as a blender or food processor, can cut people if they get too close to the rapidly moving blade. Garbage disposals can get clogged, requiring someone to put their hand down to remove the obstruction which can lead to disastrous results if the disposal turns on.
Appliance Injury Accidents
Many appliance injuries are the result of the homeowner not using it properly, failing to monitor its usage, or using it for a purpose different than what it should be used for. However, there are times when an appliance causes an injury due to a defect in its design, its components, or how it was made. Given the impact that a faulty appliance can have on a business, many companies that are notified of potential product defects will issue a recall to avoid costly lawsuits in the event of injury. If you are the owner of an appliance that is subject to a recall, it is incumbent upon you to ensure that you comply.
However, if an injury occurs due to a defect in the design, manufacture, or assembly of an appliance, liability may exist for the designer, manufacturer, or retailer. Companies that design, manufacture, and sell appliances have a responsibility to the public to ensure that they are safe.
If you've been injured as the result of an appliance accident that was due to a product defect, you will need to prove that;
The designer and manufacturer of a product was responsible for ensuring that the product was safe
The designer or manufacturer was negligent in that they breached this responsibility
As a result of their negligence, you incurred monetary damages due to an injury.
Monetary damages that may be subject to recovery include medical bills, lost wages, continuing care, as well as other incidentals for care including transportation, fees, parking fees, and supplies.
South Florida Dangerous Appliance Accident Lawyer
Navigating through appliance injury accidents can be challenging, as multiple parties may be involved and negligence needs to be proven. The Florida personal injury attorneys at the Wolfson Law Firm can review the circumstances of your situation and advise you of potential options. They can answer your questions and help you to get your life back on track after your injury.
Contact the Wolfson Law Firm at (305) 285-1115 if you or someone you love was the victim of an appliance-related injury. From our offices in Miami, Fort Lauderdale, West Palm Beach, and Fort Myers, we proudly serves the residents of South Florida. To discuss your claim or if you have questions about your injury, contact the personal injury attorneys at the Wolfson Law Firm at (855) 982-2067.