Coral Gables Traumatic Brain Injury Lawyer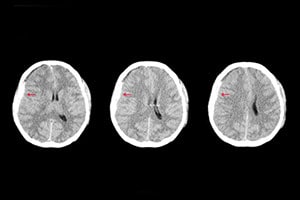 Located in sunny South Florida, Coral Gables combines the beauty of tree-laden, sleepy residential neighborhoods with the charm of Coral Gables culture. Heavily inspired by Mediterranean design, the buildings and homes that line the city are a sophisticated reminder of the past. With numerous parks, open-air malls, and outside restaurants and cafes, Coral Gables was designed for walking. Its popular tourist sites, such as the Fairchild Gardens and Venetian Pool, draw thousands of visitors to the city each year.
As with any historic community, pedestrians walking around the city should be mindful of hazards that may be in the walkways. Coral Gables is known for its lush landscaping and overhead cover. With many of the trees being decades old, their large roots may break through the roads or the sidewalk pavement causing tripping hazards. Branches or other overhead hazards can fall on unsuspecting pedestrians, striking them in the head. Other walkway dangers can exist in malls, restaurants, clubs, or cafes, as patrons may spill drinks or step on fruit, creating a slippery surface.
Hazards in the walkways can lead to people slipping or tripping and falling. While we often think of these accidents as causing minor cuts, scrapes, bruises, and broken bones, they can result in more serious injuries if the victim is hit in the head. People who are unable to catch themselves when falling may hit their head on the ground or another object. This can cause traumatic brain injuries to unsuspecting pedestrians. If you have been injured in an accident by a blow to the head, you should seek legal representation to recover medical bills and lost wages. For a free evaluation of your case, contact the Coral Gables brain injury lawyers at Wolfson & Leon at (305) 285-1115.
Skull Fractures
Trauma to the head is a common injury that can occur in a slip or trip and fall accident. Also known as the cranial bone, the area of the skull that surrounds the brain in made up of eight bones. When a person experiences a significant blow to the head, it can result in a fracture of the skull. When a part of the skull is fractured, you brain may be prone to receive more damage in an accident.
There are several different types of skull fractures. They can range from minor to serious, depending upon the location and severity. Examples of skull fractures include;
Closed or open fractures
Depressed or indented fractures
Basal or floor fractures
Injuries to the skull may also be characterized by how the fracture occurs. Fractures that occur in a straight line are considered linear, whereas multiple skull fractures are often referred to as comminuted.
Coral Gables Slip and Fall Accident Attorney
Contact the Coral Gables personal injury attorneys at Wolfson & Leon if you or someone you love has suffered a trauma to the head, you should speak with the attorneys at Wolfson & Leon. They can evaluate your case and answer the questions that you may have. The personal injury attorneys at Wolfson & Leon represent the interests of victims who have suffered from head trauma including;
Coral Gables attorney for outdoor mall trip and fall brain injury
Attorney for victim of head trauma resulting from a car crash in Coral Gables
Slip and fall accident head trauma injury victim in Coral Gables
Coral Gables lawyer for concussion injury from falling sign
Outdoor café slip and fall head trauma injury lawyer in Coral Gables
Coral Gables attorney for obstructed sidewalk trip and fall brain injury
Injury from T-bone car accident resulting in traumatic brain injury attorney in Coral Gables
Grocery store slip and fall traumatic brain injury
Traumatic Brain Injury Lawyers in Coral Gables
If you have been the victim of a serious head trauma resulting from a slip or trip and fall accident, don't pursue a case alone. Seek the help of the Coral Gables traumatic brain injury attorneys. They can advise you of your rights and help you to file your claim. Our personal injury attorneys will work to achieve a settlement on your behalf, which can be used to pay for skyrocketing medical bills and to reimburse you for income loss during your recovery.
We serve our clients from our multiple offices located in Miami, Fort Lauderdale, Fort Myers, and West Palm Beach. If you have been the victim of a traumatic brain injury, call (305) 285-1115 for a free evaluation of your case.