Construction Site Accident Lawyer in Miami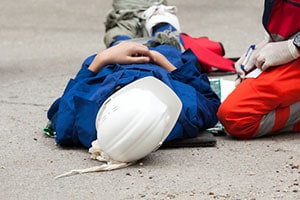 We don't bat an eye when we see the construction zone signs and cautionary yellow tape throughout South Florida. Buildings, housing developments, and industrial sites are continuing to pop up all over the state.
While new construction is good for Florida's economy, construction sites pose dangerous conditions for those passing by. Heavy falling objects, exposure to hazardous materials, or slips and falls can cause serious injuries to pedestrians or other jobsite visitors. If you have been injured near or on a construction site, speak to a construction site accident attorney today. For a free and confidential consultation, contact Wolfson & Leon at (305) 285-1115.
Most Common Accidents on a Construction Site
Construction around building sites can be particularly perilous to people travelling or walking near the area. Large construction vehicles and equipment, such as cranes and diggers, are common in these areas. Constant movement of large vehicles and heavy machinery, sharp materials or debris lying around the site, and obstacles blocking walkways can cause injuries to those near the area. Some of the most common accidents that occur on or near construction sites include:
Falling objects – Large, heavy materials are often transported to and from construction sites. They may be lifted up on cranes or stacked up on worksites. Their sheer weight can cause them to fall or tip over, potentially hitting someone on the ground. Scaffolds that are used by construction workers can fall, striking those who are below.
Slips and falls – Sidewalks near construction sites may be torn or cut up, creating uneven surfaces, leading to a fall. Signs, spilled liquids, or construction materials may create obstacles in walkways. These can cause people walking by to slip, or trip, and fall.
Vehicle accidents – Large construction trucks are used to transport materials, tools, and equipment to and from job sites. Dump trucks are often used to move dirt and debris. They are frequently entering and leaving the job site. Large trucks can be particularly dangerous when pedestrians are around or when they are working on roadways where cars are travelling at high speeds.
Electrocution – Live and unprotected wires that may be laying near sidewalks, entrances or exits, or pools of water can electrocute pedestrians walking by.
Miami Construction Accident Lawyer
Injuries that occur on or near a construction can be severe and life-changing. Victims may require significant medical treatment and require continuing care as they recover. Given the severity of the injury, victims may not be able to work for an extended period of time. This can cause extreme financial stress on the injured party and their family.
The Miami construction accident injury lawyers at Wolfson & Leon represent the rights of those who have been injured in many capacities including:
Injury from falling object on a construction site accident lawyer
Large truck accident injury attorney in Miami
Miami attorney for severe slip and fall accident injury at a building site
Falling scaffold injury lawyer in Miami
Injury accident attorney due to broken sidewalk around building site in Miami
Pedestrian injury accident due to walkway obstacles on a construction site in Miami
Miami electrocution accident lawyer on a jobsite
Injury due to hazardous material exposure accident attorney in Miami
Construction site accident injury due to collapsing walkway
Miami lawyer for heavy machinery equipment accident injury on a construction site
Flying debris injury accident attorney in Miami
Dangerous walkway near construction site accident lawyer
Miami Construction Site Accident Law Firm
For over 55 years, the personal injury attorneys at Wolfson & Leon have defended the rights of victims injured at construction sites. Representing your interests, we work with insurance companies and their legal teams to negotiate a settlement or litigate your case. From our offices located in Miami, Fort Lauderdale, West Palm Beach, and Fort Myers, we serve victims throughout South Florida. If you have been injured at a Miami construction site, speak to the Miami personal injury attorneys at Wolfson & Leon. For a free and confidential review of your claim, call (305) 285-1115 today.