Car Crash Lawyer in Miami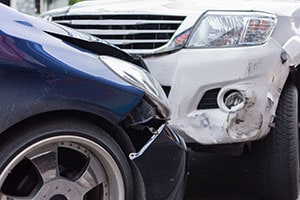 If you need to determine your eligibility to claim damages recovery after a Miami car crash, call us at Wolfson & Leon for free consultations at (305) 285-1115. We are here to answer your questions and help you. Our Miami car accident lawyers are available to you at any time you find convenient.
Miami-Dade County has plenty of car accidents, and the city of Miami is not an exception. There are at least 50,000 car crashes annually with up to 20,000 injury-causing accidents. Many crashes result in fatalities. While car accident occurs all around Miami, the most dangerous spots are located on I-95, as well as the Dolphin Expressway and the Palmetto Expressway.
The most common reasons leading to car accidents in Miami include, but are not limited to drunk driving, texting while driving, talking on the phone while driving, driving under influence, tailgating, reckless driving, and others. The injuries they cause often times are serious. We have had clients with back injuries, spinal injuries, broken bones, head injuries, brain damages, neck injuries, broken limbs, and other serious injuries. Sometimes they are not as serious, but even if you end up only with bruises and scars, you may still be entitled to compensation.
It is imperative that you get yourself checked out by a medical professional after a car crash. In many instances, there are more serious injuries that are not apparent at first. These can include partial tears of muscles, traumatic brain injuries and internal bleeding.
When someone has had expenses due to a Miami car crash, the Florida legal system allows damages recovery for the injury-related expenses. These may include:
Medical costs: Visits to hospital, surgeries, ambulance costs, stay in the hospital, and others
Medical devices and medications costs: If you need crutches, a wheelchair, or any other medical device or medications for recovery, you'll get compensated for these expenses.
Lost wages: Maybe you must stay at home while recovering. You'll get compensated for the lost wages that you would have earned if you were not injured.
Loss of financial support: Florida law may allow for the financial support your dependents receive from you.
You should know that the law entitles you to pursue compensation for pain and suffering, temporary disability, stress, or fear, due to the accident. Even though these are not economic damages, you have the right to get damages recovery for what you have been through.
Car Crashes in Miami
Although car accidents happen in Miami on a daily basis, it is still important to understand the type of accident this was and what was the cause of it. There are various types of car crashes in Miami, but according to the experience of our Miami personal injury attorneys, the most common ones let us serve them in the capacity of:
Miami road rage car accidents lawyer
Miami rear-end car collisions lawyer
Car-pedestrian injury accidents lawyer in Miami
Miami wrongful death claims due to car accidents lawyer
Left turn car accidents lawyer in Miami
Car-pedestrian injury accidents lawyer in Miami
Miami car accidents lawyer with Lyft driver
Rollover car accidents lawyer in Miami
Miami rear-end car collisions with motorcyclist lawyer
Head-on collisions with cars lawyer in Miami
Miami T-bone car accidents lawyer
Drunk driving car accidents lawyer in Miami
Miami bridges car accidents lawyer
Sideswipe and merging car accidents lawyer in Miami
Miami car accidents with Uber driver lawyer
Miami car accidents involving Lyft driver lawyer
Car Crash Lawyer in Miami
If you've were involved and injured in a car accident, you certainly need a car crash lawyer in Miami to advise you on your case. If you call us at Wolfson & Leon, our consultation is free. Our attorneys will let you know about your options for free of charge at (305) 285-1115 and won't ask for any fees before getting you compensated financially. We serve the city of Miami including its neighborhoods such as Brickell, Overtown, Miami Beach, Coral Way, Coconut Grove, Upper East Side, Allapattah, Edgewater, and others.