Boca Raton Head Injury Lawyer
Boca Raton Head Injury Lawyer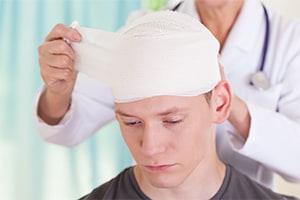 Many times, accidents can result in head injuries. Black eyes, facial swelling, and broken bones are physical indications that our head has sustained a blow. Even though our skulls provide a protective sheet of bone around our brains; when we hit our heads it is possible that our brain may also be injured. This is known as a traumatic brain injury.
According to the Centers for Disease Control, an estimated 1.5 million Americans suffer from a traumatic brain injury each year. The most common causes of traumatic brain injury accidents result from falls, car accidents, being hit on the head with another object, and assault. These injuries can be life-altering. Damage to our brains can impact our ability to function, think, and move around. This damage may be temporary but, in some cases, it can be permanent.
Traumatic brain injuries can require extensive medical treatment and rehabilitation. Not only does your brain need time to heal, you may need to re-learn basic living skills. Victims of these injuries may suffer financial hardship as they are unable to work and have high medical bills. If you or someone you love has been a victim of a traumatic brain injury accident, you should speak with a Boca Raton head injury attorney. The personal injury lawyers at Wolfson & Leon can answer your questions, review your case, and advise you of your options. Call (855) 982-2067. today for a no-cost consultation.
Boca Raton Head Trauma Law Firm
Boca Raton is an upscale city located in Palm Beach County. It boasts a population of 93,964. The city is somewhat racially mixed, as 77% of its residents are white, 13% are Hispanic and 4.22% are African American. The median age of residents living in Boca Raton is 47.3 years old.
Boca Raton's community has many upper class residential housing developments. The city is filled with high-end shopping centers, boutique retail stores, and quaint cafes and coffee shops. Mizner Park is an outdoor shopping and entertainment venue that offers a myriad of high-end stores, restaurants, art galleries, jewelers, as well as a movie theater and outdoor amphitheater. Down the road is the Town Center at Boca Raton, which is an indoor mall featuring an upscale shopping and dining experience.
Boca Raton is also home to several colleges and universities. It houses the main campuses of Florida Atlantic University, Lynn University, and Everglades University, as well as a satellite campus for Palm Beach State College.
Traumatic Brain Injury Attorney in Boca Raton
The Boca Raton traumatic head injury lawyers represent clients in a variety of cases including;
Boca Raton attorney for wet floor slip and fall accident in a grocery store leading to a head trauma
Pedestrian hit by automobile resulting in a traumatic brain injury attorney in Boca Raton
Boca Raton attorney for motorcycle accident traumatic brain injury lawyer
Brain injury caused by trip and fall accident in a parking lot lawyer in Boca Raton
Lawyer for head trauma caused by falling sign in Boca Raton
Boca Raton attorney for automobile accident head trauma
Restaurant slip and fall brain injury attorney in Boca Raton
Boca Raton attorney for concussion injury resulting from a violent crime
Falling merchandise display head injury lawyer in Boca Raton
Attorney for shopping mall slip and fall head injury accident Boca Raton
Broken sidewalk trip and fall brain injury attorney in Boca Raton
Boca Raton lawyer for trip and fall accident in housing complex resulting in traumatic brain injury
Boca Raton Brain Injury Law Firm
Wolfson & Leon serves clients from their offices located in Fort Lauderdale, Miami, West Palm Beach, and Fort Myers. For over 55 years, we have defended clients that are suffering from traumatic brain injuries. Find out what your options are by contacting a Boca Raton brain injury lawyer at Wolfson & Leon. For a free and private initial evaluation of your case, call (855) 982-2067 today.