Bayside Marketplace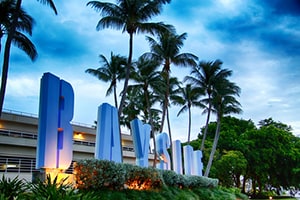 At Wolfson & Leon, our Miami personal injury lawyers are standing by to provide you with a free consultation. If you choose to hire us, you will never owe us a fee unless we make a financial recovery for you. So, call us now with your questions at (305) 285-1115 and let us provide you with your legal options after your Bayside accident.
Bayside Marketplace is a very popular destination for local South Floridians and tourists alike. It has beautiful views and offers a great variety for all your shopping and dining needs. Although a trip to the marketplace is enticing, being injured in an accident there can have a big impact on your life. If you were injured at the Bayside Marketplace in Miami, then you really should consider calling the best Miami personal injury attorney you can call.
Bayside Marketplace Miami
Bayside Marketplace is one of the most visited tourist spots in Miami. Bayside Marketplace Miami was frequently featured in the Miami Vice TV series. It is the place to get the real feel of South Florida - plenty of great international food and live music in waterfront setting.
It hosts over thirty restaurants, such as The Knife Express, Hard Rock Cafe, Bubba, Coco Gelato, Hamurguesa, Haagen-Dazs, and others. Right after a nice meal, visitors could hop on a cruise boat and experience Miami from the sea. Bayside Marketplace Miami is also the home of many store brands. The most significant of them are:
Gap
Baby Gap
Disney Store
Champs Sports
Foot Locker
Blossom
Crocs
Electronic Store
Guess
Game Stop
Le Boutique
Miami Collection
Perfumania
US Polo Assn.
Rue de France
Toy Factory
Bayside Miami Accidents
Our Miami personal injury attorneys at Wolfson & Leon have dealt with injury cases that occurred at Bayside Marketplace. The most common accidents that could get you injured there include, but are not limited to:
Bayside Marketplace Miami car accidents in parking lots
Bayside Marketplace in Miami bicycle accidents in parking lots
Pedestrian injuries at Bayside Marketplace in parking lots
Motorcycle accidents in parking lots at Bayside Marketplace
Slip and fall injuries at Bayside Marketplace Miami due to slippery floors
Trip and fall injuries at Bayside Marketplace Miami due to debris and garbage
Falling merchandise at Bayside Marketplace stores
Negligent security at the Bayside Marketplace in Miami
Personal injuries suffered during robberies and other criminal assaults in Bayside Marketplace in Miami
Drunk driving accidents at Bayside Marketplace in Miami
Personal injuries caused by poorly maintained shopping carts at Bayside
Falling tiles from the ceiling at Bayside stores
Step and fall accidents at Bayside Marketplace Miami
Crime victims at Bayside Marketplace Miami
Bayside Marketplace Liability
The good customer care you experience at Bayside Marketplace comes from management's desire to satisfy all your needs, but from laws as well. Florida premises liability laws oblige shopping centers to take good care of their visitors. They owe them duty of care that aims to reasonably prevent personal injury and damages from occurring to them while enjoying in the marketplace. When a personal injury happens nevertheless, and it happens due to wrongful act or negligence by Bayside, it is liable for it. Bayside Marketplace may have to pay for all the expenses related to the unfortunate event, including medical bills, compensation for physical pain and stress, lost wages, and other expenses.
When you claim for damages recovery, however, it's important to figure out who exactly is liable for your injury. In case of a shopping center, it might be the mall itself or a store located therein. At Bayside Marketplace, it might be any number of potential responsible parties. That is why it's best to ask a Miami injury lawyer for legal help or representation before you do anything about the issue.
Miami Personal Injury Lawyers Assisting Bayside Marketplace Accident Victims
At Wolfson & Leon, our Miami accident lawyers and injury attorneys are ready to answer your questions and help you figure out what to do following your Bayside Marketplace accident. Just call us at (305) 285-1115 for your free consultation with our bilingual personal injury attorneys in Miami.