Aventura Traumatic Brain Injury Accident Lawyer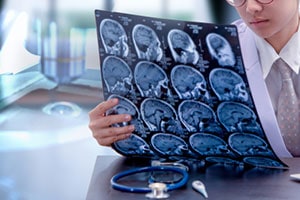 Grocery stores are common places for slip and fall accidents to occur. Broken bottles that leak liquid, fruits and vegetables that may have been stepped on leaving a filmy residue, floors that have been recently mopped, or condensation from freezers or refrigerators can make the walkways slippery. Failing to clean up spills quickly or using signage to mark hazardous areas can result in customers slipping and falling in the store.
These accidents can often result in sprains, muscle strains, bruises, or broken bones. However, everyday slip and fall accidents can result in trauma to the head. If we fall forward, we may able to catch ourselves with our arms and legs, protecting our head from impact. Falling backwards can result in the head hitting the floor. In other cases, our head can hit the corners of countertops or shelves as we fall. A blow to the head can result in trauma to the brain. These injuries can range from minor to serious, even fatal. If you've experienced head trauma as the result of a slip and fall accident in a grocery store, you should speak to the Aventura traumatic brain injury accident attorneys at Wolfson & Leon. For over 50 years, our Aventura personal injury attorneys have defended the rights of accident victims who have experienced a traumatic brain injury. For a free evaluation of your case, contact Wolfson & Leon at (305) 285-1115 today.
How Do Traumatic Brain Injuries Happen?
Whether you are visiting a friend in their home, shopping at the store, walking through a parking lot, or eating at a restaurant, head injuries can occur when you experience a slip and fall accident.
There are many ways that a person can experience trauma to the head. Injuries to the brain may occur when;
The head hits another hard object
A sudden jolt moves the head back and forth at a rapid rate
An object pierces the head and brain
If you or a loved one has experienced a trauma to the head due to a slip and fall or other accident that was not your fault, you should seek medical treatment immediately. Even if you don't feel any pain, injuries to the head and brain can take time to surface. Untreated head trauma can lead to serious complications if not diagnosed and treated properly.
Brain Injury Law Firm in Aventura
Aventura is a collection of mid to upper class residential neighborhoods located north of Aventura. The city is culturally diverse with over 35% of its population being of Hispanic origin. Aventura is a great place to raise a family with its multiple public and private schools, extensive park system, and libraries. Its close proximity to shopping, restaurants, and the beach keep its residents busy year-round.
The Aventura personal injury attorneys at Wolfson & Leon defend the rights of victims who have suffered from traumatic brain injuries including;
Aventura lawyer attorney for traumatic brain injury resulting from a grocery store slip and fall accident
Head trauma injury from a car accident in Aventura
Parking lot slip and fall traumatic brain injury attorney in Aventura
Lawyer for broken sidewalk trip and fall head trauma injury
Concussion injury from falling store sign accident lawyer in Aventura
Aventura attorney for brain injury resulting from criminal activity
Restaurant slip and fall brain contusion injury lawyer in Aventura
Pedestrian head injury accident causing traumatic brain injury attorney in Aventura
Traumatic Brain Injury Lawyers in Aventura
With offices located in Fort Myers, West Palm Beach, Fort Lauderdale, and Miami, the Aventura head trauma injury lawyers from Wolfson & Leon have represented clients located throughout South Florida. We work with brain injury accident victims seeking compensation to replace lost wages and pay for medical bills associated with their treatment and recovery. We will represent your interests when negotiating a settlement or defending your rights in court. If you or a family member has been the victim of a head trauma accident, contact Wolfson & Leon for help. For a confidential evaluation of your case, call (305) 285-1115.