Aventura Motorcycle Accident Attorney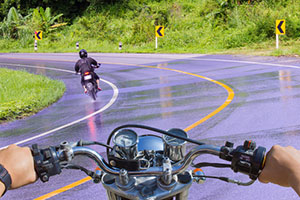 Aventura motorcycle accident injury victims need legal advice before taking any steps toward getting compensated for their injuries. If you were injured in such an accident, you can expect to be offered a settlement, but that may not be the compensation you deserve. People and insurance companies don't want to pay for damages and might see it in your case. However, with the advice and support of a Miami personal injury attorney, you can get the recovery you deserve. You will want the best motorcycle accident lawyer in Aventura that you can call. That makes good sense.
Recovering is not a straightforward task. We have helped injured victims for more than five decades. We invite you to contact our Aventura motorcycle accident attorneys at Wolfson & Leon. Call us at (305) 285-1115 for free consultations and let us help you after your Aventura motorcycle accident.
Aventura
Aventura is named after the Spanish word for adventure, as one of the developers of the city remarked to others: "What an adventure this is going to be". The adventure began in 1970's when the city was initially named Turnberry. However, it was incorporated as Aventura in 1995.
Aventura is the home to the Aventura Mall, the fifth largest shopping mall in the United States. The mall itself receives around twenty-eight million visitors per year. Aventura offers many more amenities for its residents and visitors. Apart from the iconic mall, the city hosts several recreational parks, water parks, and golf courses.
There are more than 36,000 people living there. Even though the name is of Spanish origin, Hispanic-Americans make less than one-quarter of the total population. The amount of people that enjoy the many great offerings of Aventura in comparison to its population, displays the business that is attracted from neighboring cities and more. It is located in northeastern Miami-Dade County, and is surrounded by Hallandale Beach, Golden Beach, Sunny Isles Beach, Ojus, and North Miami Beach.
Aventura Motorcycle Accident Injuries
Aventura is part of Miami Dade county, which has an average of 64,000 automobile accidents per year. The amount of traffic that runs through Aventura on a daily basis can create higher risk for a potential car accident. That is why is the risk of riding a motorcycle in this same traffic becomes even greater. There are several types of motorcycle accidents that can occur in Aventura, but in the experience of our Miami personal injury attorneys, the most common are:
Aventura Motorcycle Pedestrian Injury Accidents
Motorcycle Accidents Involving Uber or Lyft Drivers in Aventura Miami
Motorcycle Accidents with Uber Drivers in Aventura
Aventura Motorcycle Accidents with Lyft Drivers
Wrongful Death Claims Due to Motorcycle Accidents in Aventura
Rear-end Collisions in Aventura With Motorcyclists
Drunk Driving Motorcycle Accidents in Aventura and Miami
Head-on Collisions with Motorcycles in Aventura
Left Turn Motorcycle Accidents in Aventura
Rollover Motorcycle Accidents in Aventura in Miami-Dade County
Aventura T-bone Motorcycle Accidents
Road Rage Motorcycle Accidents in Aventura
Sideswipe and Merging Motorcycle Accidents in Aventura
Aventura Motorcycle Accident Attorneys
If you happen to have suffered injuries in any of these accidents, or any other motorcycle accident in Miami, you should know that you have the right to claim damages from those responsible for your harms and losses. Damages sustained from a motorcycle accident are generally more severe and can even be permanently debilitating. You may get compensated for your medical bills, lost earnings, scarring, emotional pain, and other injury-related losses and expenses. Make sure you investigate the circumstances of the case very well. Insurance companies may be quick to offer you some kind of compensation, but that's rarely what motorcycle accidents are worth. That's why you need an experienced and aggressive motorcycle accident lawyer in Miami to fight for your rights.
Our Aventura motorcycle injury attorneys at Wolfson & Leon have 50 plus years of experience in helping the good people of Aventura after a motorcycle accident. Call us at (305) 285-1115 for free consultations and let's get to work. You won't pay any fees until we recover for you.