Allapattah Slip and Fall Lawyers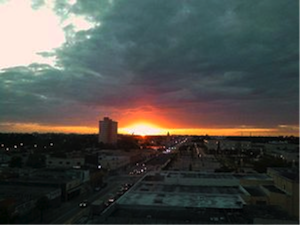 Allapattah is a Miami neighborhood located northwest of the downtown and east of MIA (Miami International Airport). As slip and fall lawyers serving Allapattah, Wolfson & Leon has represented clients from the Allapattah neighborhood. The southern boundaries of the neighborhood are the Miami River and State Road 836 (Dolphin Expressway). The northern boundary is State Road 112 (Airport Expressway). Allapattah is in between I-95 and NW 27th Avenue.
Allapattah slip and fall attorneys affectionately refer to the neighborhood as Little Santo Domingo. This neighborhood nickname was started by longtime city commissioner and former Miami mayor Willy Gort as a way to honor the community's large Dominican American population. As of the 2000 US Census, the household median income was just over $19,000. The racial makeup of Allapattah was approximately 72% Hispanic, 18% Black or African American, 7% non-Hispanic/white, and 2.5% was listed as other races. The Allapattah zip codes consist of 33142, 33127, 33136, and 33125.
The Allapattah slip and fall lawyers at Wolfson & Leon help people who have been injured in slip and falls or trip and falls. It can be something as simple as a wet floor or broken tile or sidewalk. Other examples of how people get injured include a defective parking bumper, stairs that are not built to code, or improper lighting.
Sometimes folks are injured in what is called premises liability which includes the failure to provide security or insufficient security. A person can be injured as a result of negligent security. To determine if negligent security is the cause of an injury requires a tremendous amount of investigation and analysis. The lawyer needs to obtain crime statistics for the location and review other incidents in the same area. If there were sufficient number of prior instances, then it could be argued that the premise owner was on notice and should have done more to protect its customers. Negligent security cases can arise in apartment buildings, restaurants, clubs or stores. If someone is injured or killed as a result of a crime, then the personal injury lawyers at Wolfson & Leon should be called. We help people find the responsible person, company or governmental agency to make sure that the medical bills and lost wages are paid. We assist clients in recovering money damages for the pain and suffering they endured because of the negligence of a property owner.
An Allapattah slip and fall lawyer at Wolfson & Leon can help you get the justice you deserve. Most property owners will refuse to be held accountable. They deny that there was a dangerous condition. If you show them evidence of a hazardous condition, then they blame the victim and say it was open and obvious. Property owners will say the victim should have been more careful and they are responsible for their own injuries. They will use any say anything to avoid responsibility.
That is why documentation of your case is very important. The Allapattah slip and fall lawyers can investigate, document and prove your case. Whether you slipped or tripped and fell, or were injured as a result of negligent security Wolfson & Leon can help you today. Just call us at (305) 285-1115 and come in for a free consultation.