Accident Lawyer in Fort Myers for Traumatic Brain Injury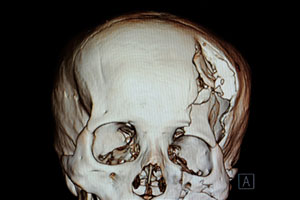 A TBI (traumatic brain injury) is an injury resulting from a blow or jolt to the head where the brain hits against the inside of a person's skull. This hit disrupts a brain's normal functions and can have serious lasting repercussions. Traumatic brain injuries (TBIs) are a serious and under-reported problem in the United States. Each year, approximately 2.8 million people suffer from TBIs in this country and contribute approximately 30% of all injury deaths. Further, on average 153 people in this country die every day from TBIs or TBI-related injuries.
Any number of brain functions can be affected by a TBI, including a person's sleep functions, cognitive and speech capabilities, emotionally stability, and diminished libido. Determining whether a person has a brain injury can be extremely difficult. For example, if you are involved in a serious car crash, a doctor can have a hard time determining that your concussion, headache or pain is due to a TBI and no other issues resulting from the crash.
Moreover, the issues stemming from a TBI can be extremely subtle. Depression and addiction can result from a TBI, and such issues can create instability and result in losing one's job or divorce. If anyone has even the slightest suspicion that they suffered a brain injury from any type of accident in Fort Myers, it is imperative that they seek out the necessary medical care as soon as possible. Once the issue of medical care for a TBI has commenced, the search for the best Fort Myers traumatic brain injury lawyer should immediately begin. It is not an understatement that your choice of a lawyer can be as important as your choice of surgeon. Do your research and trust your instincts when you select any professional.
Causes of Traumatic Brain Injuries
According to a study, falls were the main cause of TBI in 2013, accounting for approximately 47% of all TBI-related hospital visits and deaths in the U.S. Unfortunately, such falls affect the youngest and oldest age groups the most. For children between 0 and 14 years-old, falls accounted for 54% of all TBI-related hospital visits and deaths. For adults aged 65 and older, falls accounted for 79% of all TBI-related hospital visits and deaths. Falls that result in traumatic brain injuries can include:
Slip and fall accidents
Trip and fall accidents
Poorly maintained tile trip and falls
Falls caused by broken stairs
Falls due to missing handrails
Slip and falls due to melted frozen food
Leaking refrigeration causing slip and falls in stores
The second largest cause of TBIs is from being struck by or against an object. This accounts for approximately 15% of all TBI-related hospital visits and deaths. For children aged 0 to 15 years-old, being struck by an object accounted for approximately 22% of TBI-related hospital visits and deaths. Unfortunately, the second leading cause of solely TBI-related deaths was from suicide/self-harm. This is most likely since TBIs often cause serious depression, and if not treated properly can lead to people attempting or committing suicide.
The third largest cause of TBIs is car crashes, which accounted for 14% of all TBI-related hospital visits and deaths. The study also looked at just TBI-related deaths and found that automobile crashes ranked as the third leading cause, accounting for 19% of all TBI-related deaths.
Doctors divide traumatic brain injuries into 3 categories depending on the severity of the TBI. The categories are: mild, moderate, or severe. It is important to note, however, that the category diagnosis does not necessarily correlate to the long-term symptoms. Such symptoms can vary per person, no matter the category.
The main thing to remember is that each TBI is unique – no two are alike. Every person experiences different symptoms and that can depend on a variety of factors. Such factors include the type of injury, the severity of it, previous TBIs, and age. That is why to get the appropriate medical treatment and find the best Fort Myers personal injury lawyer to help you present your case so you can get the full, fair and complete compensation that you deserve.
TBI Issues and Symptoms
At the Wolfson Law Firm, our Fort Myers car accident lawyers have fought for victims of traumatic brain injuries from automobile crashes for more than 55 years. They understand that while each TBI is different, there are a several symptoms that are common. These symptoms affect a person's cognitive, physical, and emotional states. Indicators of a brain injury may include:
TBI Vision Issues - One of the main symptoms resulting from TBIs is vision issues. 30% to 85% of all people suffering from TBIs experience such vision issues. Unfortunately, these symptoms are often the last to be treated, and can be hard to detect. Vision issues can include blurred vision, change in field of vision, and photo sensitivity.

The most common vision issue associated with TBIs is blurred vision. This blurred vision is usually the result of a person's eyes no longer being able to correctly adjust the focus from far to near or vice-versa.

Other vision issues such as saccades can develop. A saccade is a vision abnormality where the eyes are not able to move correctly between two or more fixation phases. Usually, a person's eyes can move smoothly. Whereas in the case of saccades, the eyes jump from phase to phase. This can result in a person becoming lost or jump lines while reading.

Another vision issue people with TBIs experience is severe eye strain. Such strain can make it seem that the words on the page float or shimmer. A third vision issue people with TBIs can suffer from is a lack of awareness in their field of vision. Lastly, a person can experience severe light sensitivity.
TBI Hearing Issues - People who suffer TBIs also commonly suffer from hearing loss. Specifically, people can suffer from sudden sensorineural hearing loss. This condition is a rapid hearing loss that can occur at once or over several days. Fortunately, some people do regain their hearing also either at once or over a period of several days.
TBI Issues with Smell or Taste - A third common symptom that people with TBIs can have is a loss of smell, which is called anosmia. Fortunately, doctors can now test for the loss of smell. It is important for a person to test each nostril. Because much of a person's taste comes from smell, a person will miss their sense of taste when they lose their sense of smell.
Endocrine or Glandular Issues With TBI - A fourth common symptom that people with TBIs suffer from is endocrine or glandular dysfunction. The pituitary gland is a tiny organ found at the base of a person's brain. It is called the "master gland" of the body because it produces many of the hormones that are necessary for the body to function.

If the brain is injured, the pituitary gland can also be injured. This can result in hormones not being produced in correct amounts. For example, a person with a TBI can suffer from a decrease in growth hormones. Such glandular issues can lead to sexual dysfunction.

Many doctors highly recommend that people with TBIs get regular blood tests to see if their hormones are properly balanced. Doctors can prescribe medicine, but hormone therapy can be extremely expensive.
Motor Issues - A fifth common symptom of TBI is a degradation of motor skills. A person suffering from a TBI can lose the ability to walk, coordinate fine movements, or grab items. A person can also suffer from dizziness or slurred speech.
Fort Myers Slip and Fall Lawyer Helping Traumatic Brain Injury Victims
At the Wolfson Law Firm, our Fort Myers personal injury attorneys have fought for injured victims in Florida since 1963 and they are ready to work for you too. We have represented clients injured in any type of accident and sustained serious injuries. Our Fort Myers accident attorneys are available to you in the following roles if necessary:
Fort Myers Car Accident Lawyer
Fort Myers Slip and Fall Attorney
Fort Myers Trip and Fall Lawyer
Fort Myers Truck Accident Lawyer
Fort Myers Motorcycle Attorney
Fort Myers Supermarket Accident Lawyer
Fort Myers Pedestrian Accident Attorney
You can reach the Accident Attorneys in Fort Myers any time at (239) 777-9954 or visit them at their offices in Fort Myers, Miami, Fort Lauderdale or West Palm Beach. We serve all those communities as well as the decent individuals of Cape Coral, Lehigh Acres, Fort Myers Beach, Bonita Springs, Estero, Tampa, Sarasota, Naples and Clearwater. Call us with your questions. Allow us to help you and your family get the answers and justice that you deserve.